1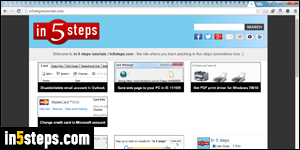 If you're like the typical browser user, you probably experienced the problem shown on the screenshot: you've been surfing the web for an entire day without closing a single tab. Google Chrome now shows tab buttons that are so small that you can barely click on them! It takes forever to copy their address and paste them in an email or a text file, I'll show you two extensions to copy the current tab's URL (internet address) to the clipboard, or do it for all open tabs!
2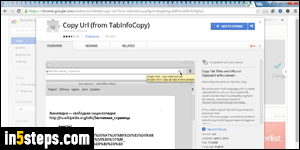 I'm assuming that you already know how to install a Chrome extension (if not, head over to that tutorial for a quick read!) The first extension is a clone of a very good one that has since become for sale; the clone is free to download and use. It's called "Copy URL", and here's its page in the Chrome web store.
3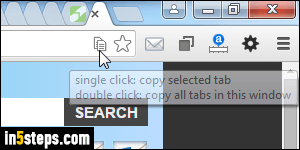 A copy icon (two overlapping documents) will appear in the address bar - the "omnibox". You'll need to refresh each tab before it does. Since Chrome doesn't including a "reload all tabs" option out-of-the-box, the easiest might be to just restart it! Click once on the icon to copy the current tab's title and its URL on a second line: you can now paste them anywhere! Double-click on the icon to copy the titles and URLs of all tabs opened in the current Chrome window.
4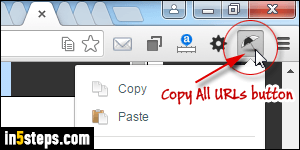 The second extension is slightly less user-friendly, but MUCH more flexible: it allows you to completely customize how the tabs' URLs and titles will be formatted. Example: you can format them as HTML links, which can directly be pasted into the source code of your website or blog. Don't let that last example scare you though, because you can copy in plain text :) Here's the extension.
5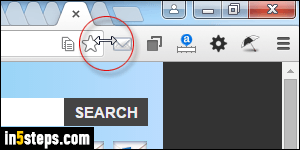 Once you've installed Copy All URLs, an umbrella icon will appear in the toolbar. Tips: you can drag-and-drop buttons to a new position, hide extension buttons (especially useful if you've set a keyboard shortcut to that extension!), and resize the toolbar to show or hide buttons, as shown on the screenshot. To customize the Copy All URLs, right-click on its button and choose Options.
*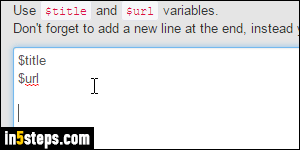 Bonus Tips - customizing "Copy All URLs".
- Select Custom under the Format settings, to choose how you'd like to format the titles and links when you click to copy them all: to get a clean list of all tabs, type the text shown on the screenshot, including two blank lines at the end.
- Check "Copy tabs from all windows" to copy every single open tab!
- Notice the paste command: it lets you open new tabs from copied URLs!