1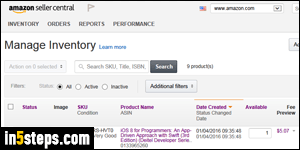 An economical way to read a lot is to buy your books used on Amazon, and resell them through Amazon. Once you've created an Amazon seller account, listing your books (and other items) up for sale just takes a couple of clicks. You don't need to have purchased an item from Amazon to be able to sell it. It just needs to exist in Amazon's inventory, meaning that it must already have a product page on the site. (Tip: USPS has a special rate for shipping books!)
2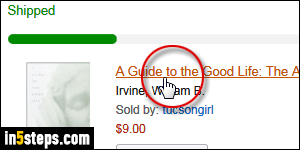 To avoid listing your item under a product listing for the wrong version (like a different edition, in the case of a book), go to that item through your order history - if you originally bought it on Amazon. The link in your past orders will automatically go to the correct product page, with matching edition, language, size, etc. If you purchased that item elsewhere, enter the ISBN (for a book), or the manufacturer's SKU in the case of any other product (electronics, etc.)
3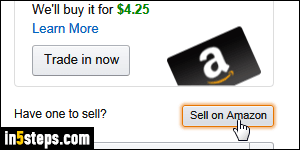 From the product page, click on the Sell on Amazon button, and log into your seller's account if needed. On the next page, select a condition (more on that below). The description is optional, but you should use it for items sold in "good" or "acceptable" condition: ideally explain why you chose that condition. Finally, pick a price: Amazon will automatically set the shipping price for you. You can even ship items from your Amazon seller's account! The percent cut Amazon takes depends on the type of item you are selling (15% for books).
4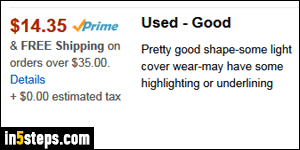 In my experience with Amazon sellers, it's better to be on the safe side, and list your product one step under the actual state. For example, if the product looks nearly new, consider picking a condition of "very good" instead. Buyers will never complain if the product is in better shape than they expected. Of course, this doesn't apply if the book or product you are selling is actually new!
5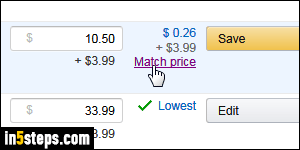 In your seller's inventory page, Amazon shows your prices, and how they compared to other sellers. But that doesn't take into account the condition of competing products. In the screenshot, this book isn't the cheapest, but it's "like new". The lowest priced version Amazon mentions is in "acceptable" condition - the lowest it offers. Clicking "Match price" in that case wouldn't make sense.
*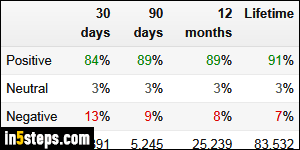 Tip: expect lots of complaints and negative feedback around Christmas, when everyone orders at the last minute, and USPS / FedEx / UPS are swamped. Many people are unreasonable, and there isn't much you can do about it - except for not selling in December! As a buyer, keep those negative reviews in perspective before ruling out a third-party seller. The type of complaint is often more useful than the overall rating. Think of how you leave your feedback!