1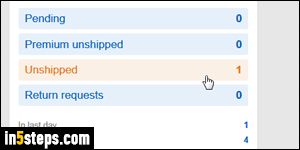 Once you become an Amazon seller, you get access to Amazon shipping. When a book you listed for sale sells, you can print your own shipping label and go buy postage yourself, but there's an easier way. From your Amazon seller's account, you can buy postage and print the label: the small fee (under 10 cents for the standard $3.99 shipping) is worth the convenience: it also automatically posts the tracking number. Much better than the multi-step alternatives!
2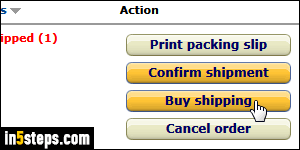 Log into your Amazon Seller's account, and click on the Unshipped link on the left to show all sold items you need to mail. Then, click on the Buy shipping button next to that item. On the next screen, double-check the shipping From and To destination addresses look ok, and that the book title / item is correct.
3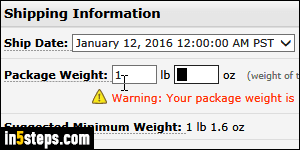 Now pick a ship date: Amazon frowns upon sellers who take too long shipping items. The Unshipped screen shows an "expected ship date" next to each item: do your best to meet it! Weight: If you don't have a postal scale, enter "1" in the pounds text field and hit Tab. Amazon will give you a warning that generally indicates the item's actual weight! (No need to go to the product page :) Always overestimate weights to avoid packages returned by USPS / FedEx / UPS.
4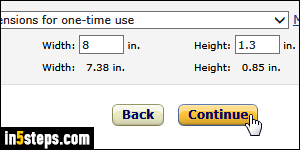 Then, enter the package's dimensions: not the item's actual dimensions, but the volume its box will occupy in the postal truck. Here too, overestimate or round up the dimensions to avoid issues with the shipping carrier. Click Continue.
5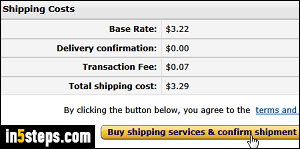 Next, make sure that media mail is selected if you are shipping books, CDs, or DVDs (assuming you're using USPS). Media mail packages give you a better ship rate than other items. In my experience, it's under twice the price. But you can only use it for these types of items. Review the bottom options (see bonus tips), and click Continue. Review everything in the next page, like shipping rate and Amazon fee; then, print your shipping label and mail the package!
*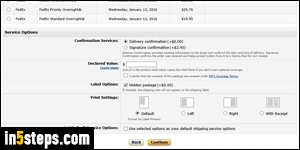 Bonus Tips - Shipping Options:
- "Delivery confirmation" is free, and automatically selected: it will give you a tracking number, and automatically ties it to that order.
- "Declared value": USPS automatically insures items for up to $50, for free.
- if "Hidden postage" is checked, what you paid won't show on the label.