1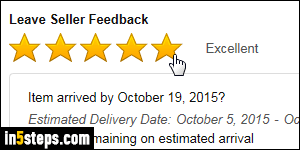 I've never sold anything on Amazon: but having often purchased from and spoken with third-party sellers over the years, it seems like some Amazon customers are quick to leave negative feedback. So I'll start saying "Be nice!" Many of these sellers are mom-and-pop shops, which (in my experience) bend backward to fix issues. And don't leave feedback until an problem was resolved to your satisfaction: you lose some leverage once you've left your feedback!
2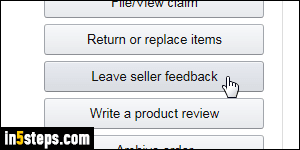 There are two ways of leaving feedback on Amazon: either from the dedicated feedback page (link), or through your order history page (which lets you search orders by name). The feedback page is probably easier to use, because you can leave feedback in batch: it only shows items that require your feedback. By contrast, the orders history page forces you to hunt for "Leave seller feedback" buttons (and large-quantity orders don't even show all items!)
3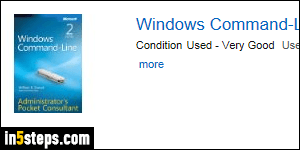 The itemized feedback page shows you the advertised condition of the item ("Condition Used - Very Good", for example). Each one gives you the order date, with a link to the order details. Start by giving a number of stars. If everything arrived as described, and relatively fast, consider leaving 5 stars (a seller -to whom I left 5 stars despite an issue- told me that many people never left above 4 stars, even when they were satisfied: don't be "one of those" :)
4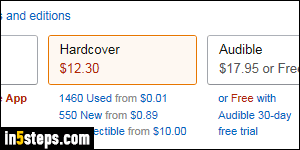 The goal is to help other Amazon users: my first priority, for example, is that the item be exactly as described. My second is that it be shipped fast. So when I leave feedback, I comment on both of these, which will hopefully help other customers make up their mind between sellers selling the same item. I've often paid a bit more to buy from a better rated third-party seller. Ultimately, the star rating matters more to other buyers than the comments you leave.
5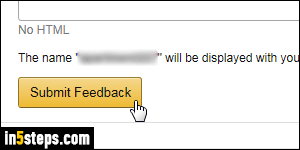 Once you've answered Yes or No to the three questions on shipping speed, item condition, and prompt & courteous service, type your comment and click Submit Feedback. If it's the first time you are leaving feedback, make sure that you like the name (screen name) under which your review will be published - if not, click "Use a different name" to create a new nickname.
*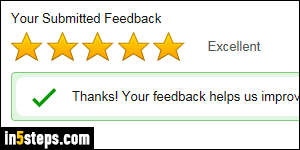 Update: I've since become an Amazon seller and started selling books. I was surprised by the lack of feedback. Based on this thread, it turns out that only 2-3% of buyers actually leave feedback. I always do, and I will keep doing it now that I know this. You know that people won't hesitate to leave negative feedback, so be kind to good sellers and leave reviews when you are happy!