1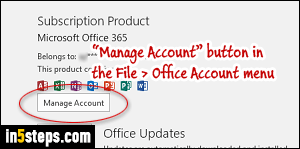 Unlike traditional boxed software, Microsoft offers Office 365 as a recurring subscription service. This gives you access to most products from the company's productivity suite, at a low and affordable monthly -or yearly- cost. The downside is that you lose access to those apps if you stop renewing the subscription. (But you can easily reactivate your subscription later on!)
2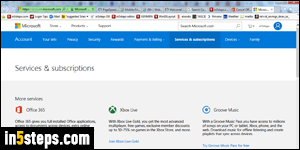 You cancel your subscription through your Microsoft online account. From one of the Office apps (in my case, Outlook 2016), you can click on the File button (top left corner), click on "Office Account" on the left, and click on the Manage Account button on the right. Otherwise, you can just click on this link!
3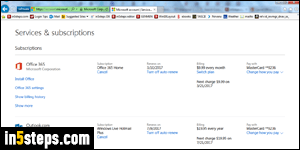 If needed, sign into your Microsoft account (same login as your MSN / Hotmail / Outlook.com email address). Next to "Office 365", you'll have a series of links: the "Turn off auto-renew" option will keep your account active, but force you to manually pay the subscription fee. To stop your subscription, at least temporarily, click "Cancel" under the product name (e.g., "Office 365 Home").
4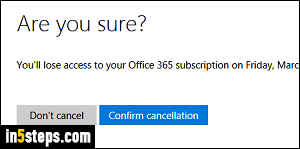 In the "Are you sure?" confirmation screen, click Confirm Cancellation. Notice that Microsoft is giving you the date until which you can keep using the Office 365 apps on your various computers: "You'll lose access to your Office 365 subscription on Friday, March 10, 2017, when we don't automatically renew it". You'll be redirected to a page that looks like the one in the next screenshot.
5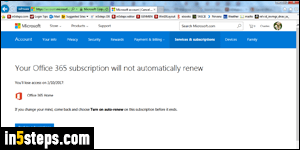 If you decide to reactivate Microsoft Office 365 before it expired, you can just click on the "Turn on auto-renew" link in your account page. Otherwise, follow the prompt to set up the service again, confirm the credit card you want to use, etc. While your subscription is inactive, you'll still be able to run the Office apps (Word, Outlook, Excel, etc.), open your files, and even print them, but you won't be able to create new ones or save changes to existing ones!