1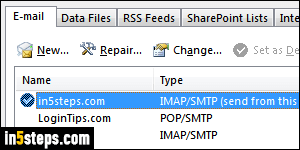 When you setup an email account in Microsoft Outlook, it will automatically check the server every 30 minutes for new messages. But you can customize "Send/Receive Groups", giving each email address a different timer setting. You can effectively disable an account by preventing it from checking for new emails! You can also completely remove that account. The steps in this tutorial are exactly the same in Outlook 2016, Outlook 2013, and Outlook 2010.
2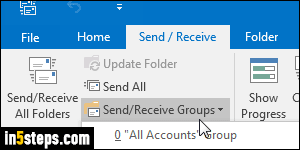 To temporarily disable an email account, without deleting it, select the Send / Receive tab (which can be always visible if you pin the ribbon). Click on the Send / Receive Groups dropdown button, and pick "Define Send / Receive Groups" near the bottom. The rest of the process is described in detail in the "Change how often Outlook checks for emails" tutorial: put the account you want to disable in a group that never checks the server for new messages!
3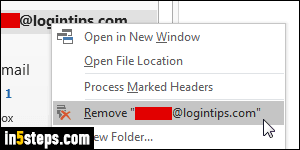 The following trick works in Outlook 2016, but not Outlook 2010 (I don't have an email account setup in Outlook 2013 to test it out). Right-click on the email account in the "navigation pane" on the left. If it's hidden, you can hit the Alt+F1 keyboard shortcut to show it (that same hotkey also collapses it!) From the context menu that opens, choose "Remove [email address]", and click Yes.
4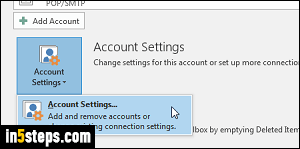 Otherwise (this works in all three latest versions of Outlook), click on the File button -top left corner- to open "Backstage view". Ensure that Info is selected on the left, click on Account Settings, and select the Account Settings option - yes, it is weird to have a menu for a single, homonymous option! A list of accounts opens in a popup, the same you accessed to change your email password. Select an email account, click Remove, and confirm with Yes.
5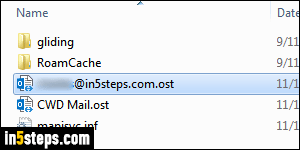 Note: depending on how you added your email account in Outlook (POP3, IMAP, or a custom protocol), removing it may still leave messages from that account saved in your "PST file" or "OST file". This is a big file, stored on your computer, in which Microsoft Outlook stores local copies of emails, contacts, etc. If you want to get rid of all emails related to the account you just removed, deleted the inbox for that account, individual folders, or select messages.