1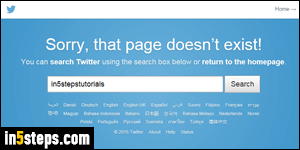 Changing your Twitter username also changes your Twitter URL (web address). You'll keep all your followers and your feed (even old tweets) will show your new "@" handle. But links to your old username must be updated, because Twitter won't redirect your old username to the new one. Retweets will show your old username / handle: unless you sign up for a new Twitter account to grab your old user name, these links will return a page not found (404).
2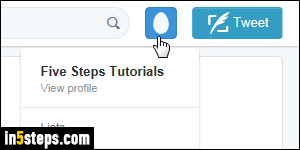 You could keep the old account, change its email address, and sign up with the address you prefer using for a new Twitter account. But it's better to change Twitter handle and then sign up for your old username: that way, the new one keeps all your old tweets! So, log into your Twitter account, and click on your profile picture ("avatar") in the top right corner (by default, it shows an egg over a colored background). Now select Settings from the dropdown menu.
3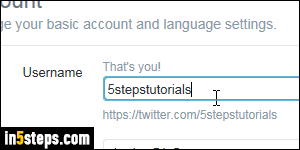 Make sure that the Account options are selected on the left (they should automatically be). Under Username, type a new combination of characters: letters, numbers, and underscores (_). A Twitter handle can be at most 15 characters long. Notice that changing username also updates the preview URL in gray text under the text field. If the name you want is already taken, but inactive, you can only claim it if you own its trademark (official policy).
4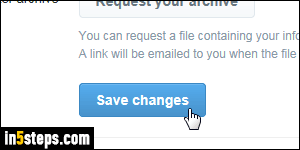 Once you found a good, new username that also was available -quite a feat!- scroll down to the very bottom and click on the Save changes button. Enter your password to confirm the change, and click Save changes again.

Tip: consider changing your Twitter name to match your new handle!
5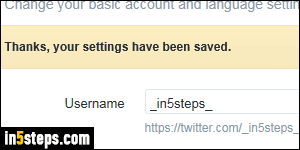 As soon as you get the "Thanks, your settings have been saved" confirmation message, your old Twitter URL and mentions to your username will no longer work, nor will they redirect to your new handle. Remember that anyone can sign up for your old username right now, so reclaim your old handle by signing up for it using a different address, or be ok letting it go! Either way, remember to ask people who link to your old username to update their website / blog links!