1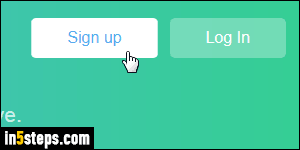 Unlike Facebook, Twitter doesn't differentiate between private accounts (for individuals) and business accounts (for companies, websites, bands, brands, etc.) That means that the sign-up process is the same, regardless of the purpose of your Twitter account. Go to twitter.com and click on the Sign up button in the top right corner: if someone's currently logged in, sign them out by clicking on their profile picture (top right corner) and choosing "Log out".
2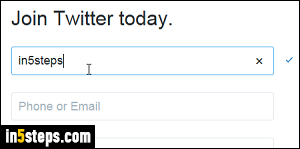 Enter your name, as you want it to appear on your Twitter feed. Then, enter a cell phone number or email address: make it a mobile phone, which will be on you if you need to reset your password, and can receive SMS text messages. Caveat: each Twitter account can only be associated with one email address, so pick the right one for this account. (To keep using that address, consider changing your Twitter username or changing your Twitter email address!)
3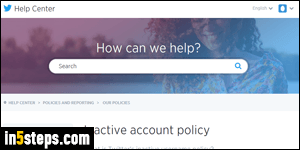 Because Twitter is so popular, because usernames (handles) are so short, and because each username is unique, it's difficult to find user names still available. You'll have to add underscores (_) or numbers in the handle to find an available combination! If the username you want is taken, but by an inactive account, it won't be possible to claim it unless you own the trademark (for a $275 filing fee in the US) for the company name or sub-brand: see Twitter's policy.
4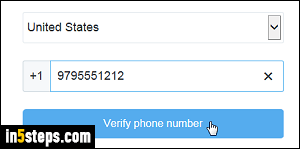 Next, pick your country and enter your cell phone number: unfortunately, you have to enter an actual (real) number, since Twitter will confirm it by sending it a verification message before your account is created. And it's no longer possible to sign up for Twitter without a phone number (you'll get the "You entered an invalid phone number, please try again" error message if Twitter's verification SMS isn't delivered). Click Verify phone number to continue.
5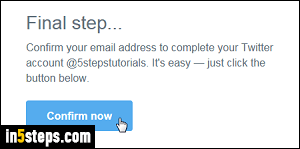 If you get an email-confirmation request, click on Confirm now to activate your account. Once you receive a message with "Welcome to Twitter" as subject line, you'll know that your Twitter account has officially been created, and you can start tweeting right away! (Click on the Tweet button - top right corner :)