1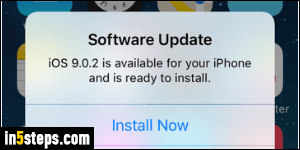 Now and then, you need to update your iOS software: once a year, you'll get a brand new version ("Upgrade to iOS 9"). But Apple releases "minor updates" -stability and security patches- throughout the year. This tutorial shows you how to check for updates and install them on your iPhone / iPad. In some cases, the availability will be obvious, like the popup shown in this screenshot: "Software Update - iOS 9.0.2 is available for your iPhone and is ready to install".
2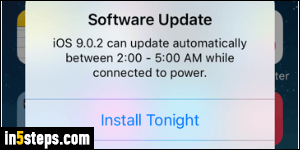 The reason it is "ready to be installed" is that your iOS device automatically downloads the update when your phone has available Wi-Fi, isn't running low on battery power, and as long as you didn't enable Low Power Mode. You can tap on Install Now, Install Tonight, or Remind Me Later to postpone.
3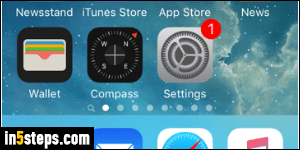 Ideally, you should fully backup your phone or tablet before installing any update - just in case! But if you want to install these upgrades right away, count at least 10-15 minutes of downtime without access to your iPhone or iPad: on top of the installation, iOS will restart itself once or twice during the process. If you didn't get a notice, your first clue that an update is available is the red number notification shown in overlay about your Settings (gear icon).
4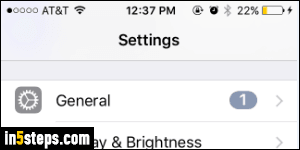 Tap on it, and select the General settings - here too, a notification number is visible in the submenu. On the next screen, you'll see a "Software Update", followed by the same number. Tap on that button to show the version number for the update, a brief description, and a link to more detailed information.
5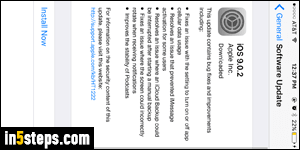 Here's what the software update screen looks like (rotated to show it in all its glory :) The bulleted list mentions the most anticipated and/or most important updates. Note the link to Apple's website at the bottom: clicking it opens Safari, with a complete list of what this patch covers. Many tech news site will translate that information to plain-English within minutes of an update becoming available: just Google its version number! Tap Install Now to obtain it.