1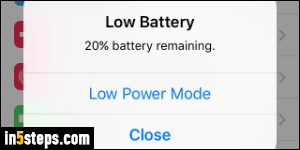 A feature you get by upgrading to iOS 9 is "Low Power Mode": it disables some background services / animations, and slows down your iPhone / iPad's processor. Before your battery life gets dangerously low, you'll receive a "Low Battery - x% battery remaining" notification (see screenshot). Tap Low Power Mode to extend the battery life left, or Close to keep using the default power settings. Let me show you how to turn on low power mode on demand.
2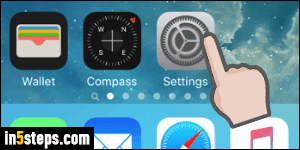 Enabling low power mode is ideal for long trips during which you'll be away from any kind of power source. It also works for any other situation where you want to prolong your battery life, but keep in mind that your phone or tablet will feel noticeably slower. To manually switch to low power mode, click on the Home button to minimize all your apps and launch Settings (gear icon).
3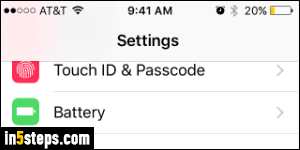 Tap on the Battery settings on the next screen. By the way, did you notice the yellow battery icon in the top right corner of the screenshot? Green "means plenty of juice left", red means "very little battery life left", and yellow -new to iOS 9- means that you are currently running on low power mode.
4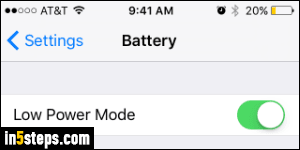 Tap on the Low Power Mode toggle switch to enable or disable it (in the screenshot, it's already on). Don't quite leave that screen yet: at the bottom, your iPhone is loading a list of the most power hungry applications you ran recently. It doesn't mean that these apps are necessarily inefficient, or power hogs, it just means that they've used the largest amount of energy.
5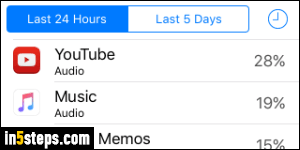 Here's a percentage breakdown for battery usage over the "Last 24 Hours". Notice that you can select the "Last 5 Days" tab to get a better idea of a pattern. Connectivity (Wi-Fi or 3G / 4G / LTE) means that power is used to fetch data; rich graphics and animations mean that both the processor and graphic unit are using electricity to render these engaging experiences. In my case, with Music, part of the issue is that streaming to Bluetooth and connecting to the iTunes Store spends a lot more power than simple music playback!