1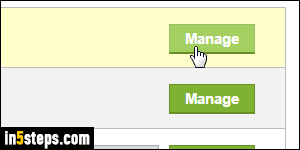 It's difficult to manage the domains you bought with GoDaddy with the "Domain Manager", especially if you own a large number of them. In this tutorial, I'll show you a cool way of managing your domains from your favorite spreadsheet program, like Microsoft Excel, Apple's Number app, or Gnumeric. First, log into your GoDaddy account; on the next page, click Manage next to Domains.
2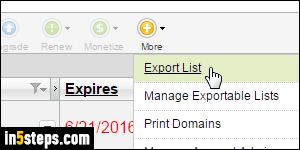 When the list loads, move your mouse above the More button on the right, and select "Export List" from the dropdown menu (see screenshot). This will open a popup window: make sure that it isn't blocked by your popup blocker. (Tip: in Internet Explorer, you can temporarily disable your popup blocker by holding both the Alt and the Ctrl key on your keyboard while clicking on a link.)
3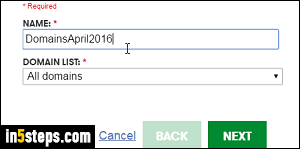 Now type a name for your list; since it's automatically deleted after a week (whether you've downloaded or not!), that name doesn't really matter. Next, choose the domains you'd like to be included in the list to export. By default, All Domains are selected, regardless of which ones may be checked in the list. If you want, you can restrict to backordered domains, only expired ones, etc.
4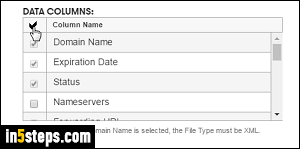 Click Next, and choose the columns you'd like to export: these are the fields of information that pertain to each domain, like nameservers, forwarding URL, etc. To include all the information, check the checkmark icon like I did on the screenshot. Click Next: choose CSV for comma-separated values (ideal for a spreadsheet), or the XML file format (advanced users only). Finally, choose None for compression, so you download the file directly. Now click Finish.
5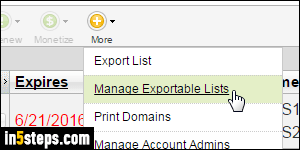 Your export list won't be available right away, but leave the domain manager open: in my experience, GoDaddy typically takes under five minutes to generate the list. Once you get the "The list you requested is available to download" email, go back to your list of domains, mouse over the More button, and this type choose "Manage Exportable Lists". Then, click on the download icon next to your list: careful not to click the "x" button: it will delete that list!