1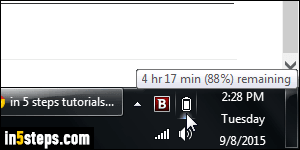 By default for laptops / tablets running Windows 7, the battery icon should be visible in the taskbar. While plugged in, mouse over to see how much time is left before the battery is fully charged, and shows the current unused battery percentage. When working unplugged, as on the screenshot, mousing over the icon shows the remaining percentage, and when to recharge your machine.
2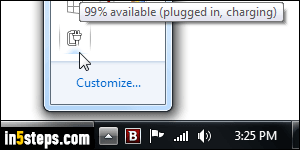 First, check if the battery icon is already visible, but hidden amongst the less used icon: do that by clicking on the up-arrow button next to the system clock. If the battery icon is visible, you can get battery life information by hovering above the hidden icon, as I did in the screenshot. You can also make Windows always show this and other icons in the system tray (now called "notification area").
3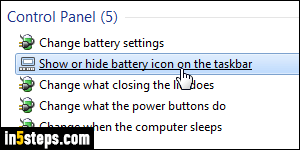 If the battery icon isn't visible even after you clicked to reveal hidden icons, it means that it was turned off. You can restore it to the tray very easily. Open the start menu and type "battery" in the search field. Then, click on the "Show or hide battery icon on the taskbar" link result under Control Panel.
4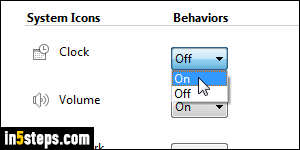 That opens the "Turn system icons on or off" screen, where you can show or hide the volume icon, network, action center (flag icon that warns you of security issues), and hide the system clock - yes, you can even hide the Windows clock! Click on the dropdown next to Power, and choose "On" to resume showing the battery icon; "Off" completely hides it. Click OK to save.
5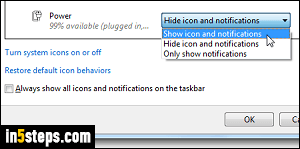 With your battery life indicator back in the tray, you can choose to always show it next to the clock, or keep tucked away, next to other hidden icons. (Same link as step 2: hide or show system tray icons.) To make visible icons to take less space, you can resize your taskbar to stack them vertically, just like the first screenshot. You can also force Windows to use small icons in the taskbar.