1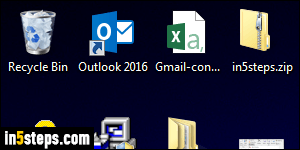 By default, Windows 7 uses a medium icon size for your desktop (48 by 48 pixels, example icons shown in the screenshot). It's large enough to be visible with a high screen resolution, but small enough to let Windows show a lot of desktop icons. When you have more icons than screen real estate, the others are rendered off-screen (out of view). You can see them by opening your desktop in Windows Explorer: type "desktop" in the start menu and click on it!
2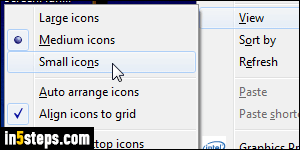 There are several ways to change your desktop icons' size: the traditional way is to minimize all your windows and right-click on an empty area of the desktop (meaning, not on a file / folder / shortcut). Then, select the View submenu and choose a new icon size: Large icons, Medium icons, or Small icons. (By the way, that's the same menu that lets you hide your desktop icons!)
3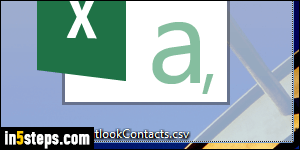 Another, much more flexible way, is to use the scroll function of your mouse (the scroll wheel on an external mouse, or two-finger scrolling on your trackpad for laptops). Now click anywhere on your desktop, to make sure that it is the active element: hold down the control key on your keyboard (Ctrl), and scroll with your mouse or trackpad. Scrolling up, like zooming in, makes your icons bigger. Scrolling down, like zooming out, makes all your icons smaller!
4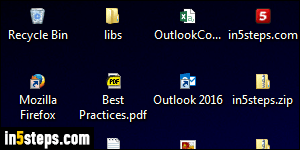 Unlike the right-click approach, zooming in and out gives you access to many more desktop icon sizes: the previous screenshot shows the largest icon size, and this screenshot shows you the smallest. As long as you're looking at your desktop like this, the only perspective you have is "List View": a series of tiled icons, only showing the file name. For more details, let's launch Windows Explorer (hold down the Windows logo key on your keyboard and hit E).
5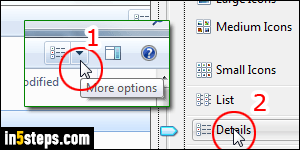 Select your Desktop on the left (it isn't there, just restore your default favorites folders). Now click on the More options dropdown arrow (see screenshot), and select the Details view. You can right-click on any column header to add or remove headers. Each header is clickable: click once to sort by it one way, click again to reverse the sort order. Tip: the Ctrl-scrolling trick from step 3 will also work in Windows Explorer! And Windows 7 remembers your last folder view.
*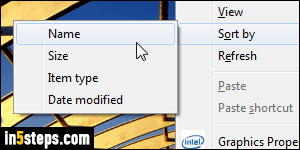 Bonus Tips: when you change icon size on your desktop, files, folders, and shortcuts may end up out of order. First thing you can do: right-click on an empty area of the desktop and choose "Sort by > Name / Size / Item type / Date modified". To keep your desktop icons aligned, right-click and make sure that View > Align icons to grid is checked. To avoid empty spaces between icons, make sure that View > Auto-arrange icons is also checked!