1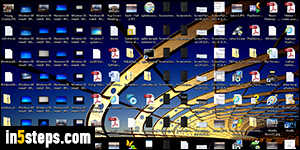 Your desktop is actually a folder: when you minimize all your windows, what's showing is the content of the Desktop folder for your Windows user account. You can hide your desktop icons without affecting these files and folders (still accessible in Windows Explorer), and you can also hide system icons visible on your desktop, like the Recycle Bin, My Computer, your User folder, etc.
2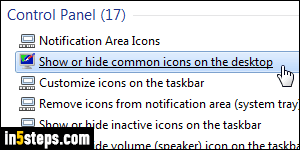 To hide system icons on your desktop, open the start menu and type "icon". Now click on the "Show or hide common icons on the desktop" link result under Control Panel. This launches the Desktop Icon Settings dialog.
3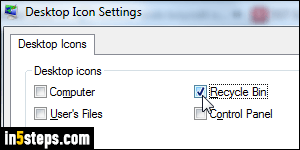 Check or uncheck the checkboxes to show or hide system icons from your desktop: Computer (the My Computer icon), User's Files (the folder that contains all system folders for your profile - My Documents, My Pictures...), the Network icon, the Control Panel, or the Recycle Bin icon. Notice that this dialog also lets you change the default icon for each one. Click OK to save.
4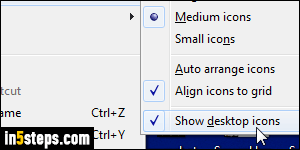 Your desktop (what you see when all windows are minimized), will now no longer show -or hide- the icons you checked and unchecked. To hide all desktop icons, right-click on an empty area of the desktop (not on a file/folder), select the View submenu, and uncheck "Show desktop icons". To restore desktop icons, follow the same steps but check Show desktop icons.
5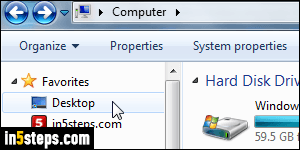 Finally an "empty" desktop! With desktop icons hidden, access your desktop files using Windows Explorer. Bonus Tip: you can type the names of most system folders in the start menu to open them. Click on the start menu, type "desktop", and hit Enter: your desktop opens in Windows Explorer! You can also launch Windows Explorer by holding down the WinKey (key with the Windows logo) and hitting E: your desktop is among your favorites folders.