1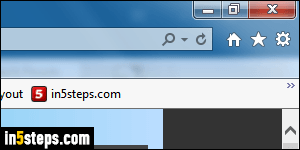 By default, Windows 7 uses a rich color scheme with "Aero" visual effects, including transparency, mouse-over glow effects, and animations when windows are minimized, restored, or resized. This looks great, but consumes resources: if the upper-right buttons of your browser window don't look like the screenshot, you might not be running the full Aero experience, or someone disabled the transparent glass effect. You can change theme to use Aero.
2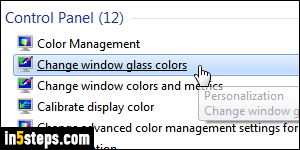 Open the start menu and type "color" in the search field. Then, click on the "Change window glass color" link that appears under Control Panel.
3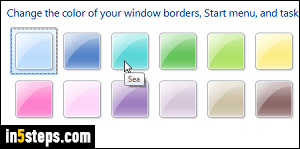 You can now pick the base color for your window borders color (aka "Aero glass"). Click on any swatch, and the new color will be applied instantly. The default Windows 7 Aero theme uses the top left color. Feel free to experiment, because you're in "preview mode" until you click on the Save changes button. Clicking Cancel will revert to your original color scheme, so don't be timid! (And see the bonus tip at the bottom to see how you can save your current theme.)
4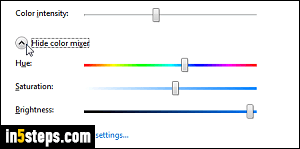 To fine-tune the colors, you can drag the "Color intensity" slider (slide right for richer, warmer colors). For even more control, click "Show color mixer":
- The Hue slider lets you pick any base color you like.
- The Saturation slider does essentially the same as the color intensity slider.
- Brightness controls how dark your color is: on the left, it's basically black!
5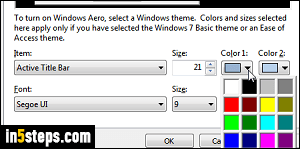 All color settings we've seen so far apply to window borders (glass colors) for any Aero theme. The "Advanced appearance settings" link at the bottom should be familiar to you if you've used older versions of Windows. They give you granular control over the appearance of windows and interface elements (buttons, dropdowns...) if you are using Windows' Classic theme, or one of the accessible themes. On the screenshot, I'm tweaking the title bar gradient.
*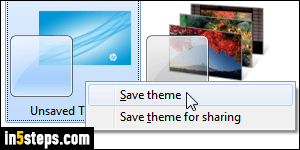 Bonus Tip: if you want to keep your current theme as backup, you can save it. Type "theme" in the start menu's search field, and click on the "Personalize your computer" link. The theme currently selected at the top says "Unsaved Theme", right-click on it and choose "Save theme". It will save nearly all your settings: to switch back to that theme in the future, just click on it - that's it!