1
Have you spent a lot of time customizing Outlook? Adding safe senders and safe domains takes time, and that's a perfect example of data you can reuse from one Outlook installation to another. Fortunately, you can import and export your safe senders list as a text file. The same applies to your blocked senders list. They're called "senders" lists, but they include both the email addresses and the domains (@example.com) you marked as safe, or manually blocked.
2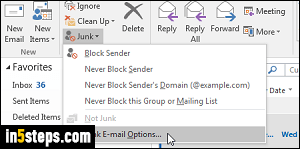 Screenshots in this tutorial show Outlook 2016, but the steps are the same for Outlook 2013 and Outlook 2010. Once in Outlook, select the Home tab in the ribbon, and click on the Junk dropdown button. Select "Junk E-mail Options" at the bottom. (Tip: you can make Outlook's ribbon always visible.)
3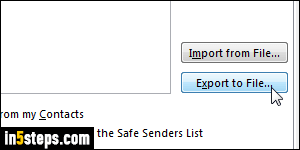 When the junk mail options dialog opens, select the Safe Senders tab at the top. You'll see the list of all addresses and domains you've marked as safe. Click on the Export to File button in the lower right corner. This will create a text file, containing one entry per line. Pick a destination folder, and type a meaningful name (like "safe senders"). Click Save to export that list.
4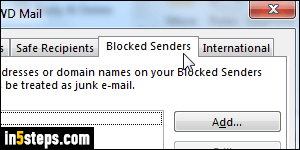 Now switch to the Blocked Senders tab and do the same thing: click on the Export to File button, ideally save that file in the same location, and call it something instantly recognizable like "blocked senders". Click Save. If you've added any Safe Recipients, repeat those steps for that tab as well.
5
You've already guessed it: copy the exported lists to a location accessible from your other version of Outlook. Once in your other copy of Microsoft Outlook, click on the Junk button and pick "Junk E-mail Options". Now go through each list (blocked senders, safe senders, and safe recipients), and click on the corresponding Import from File button. Navigate to the text files you exported, select one, and click Open. All email addresses and domains will be added.