1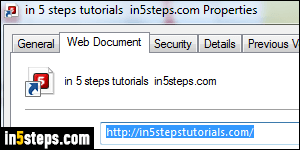 Adding websites to your favorites, even when you create Favorites folders for bookmarked web pages, quickly becomes out of hand. For a site that requires your immediate attention, did you know that you can save a shortcut to it on your desktop? This functionality comes built right into Internet Explorer 11/10/9. Better yet, we'll show you another way of creating web shortcuts anywhere on your computer, on a network / shared folder, or even in your start menu!
2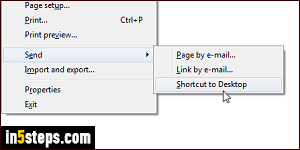 First, go to the site you want to add to your desktop. Then, hit the Alt key on your keyboard to show Internet Explorer's classic menus. Click on the File menu and choose "Send > Shortcut to desktop". The equivalent keyboard shortcut is Alt+F (to show the File menu), and then hitting first the letter E, followed by the letter S. It sounds like a lot to remember, but once you've done it a few times, it will become automatic (it's a "muscle memory" thing).
3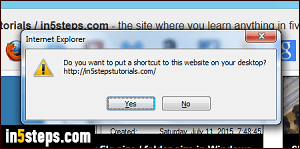 Once you see the "Do you want to put a shortcut to this website on your desktop?" confirmation message, double-check the URL (address), and click Yes. Internet Explorer will add that web shortcut on your desktop, and use the website's "favicon" (the icon you see in the browser tab and address bar), as icon for the shortcut: see the in5steps.com shortcut in the next screenshot.
4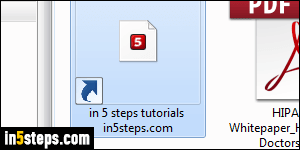 Unlike a pinned site, double-clicking on that shortcut will launch that URL in Windows' default web browser. In other words, even if you save the shortcut from Internet Explorer, launching it will open a new browser tab pointing to it in whatever is your current default web browser (Chrome, Firefox, Opera, etc.) You can also create a shortcut by right-clicking on a web page, and choosing "Create Shortcut" from the context menu - then click Yes to proceed.
5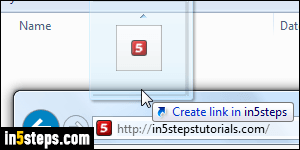 To add a website shortcut somewhere else on your computer (a folder other than your desktop), no problem either. The following trick also works in Chrome, Firefox, Opera, and probably every other browser. Drag the web page's icon from the address bar, and drop it in any folder opened in Windows Explorer. Look at the screenshot: we resized the IE window for this purpose.
*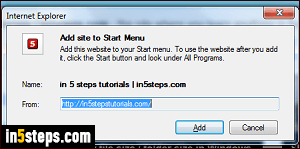 Bonus Tip: while IE 11/10/9 hasn't added "Add shortcut to desktop" to the new menus, it did add to the current Tools menu (gear icon near the top right corner of the Internet Explorer window), a way to "Add site to Start menu". After clicking on it, you can launch that website by typing part of its URL name in the start menu's search field, and hit Enter - just like you launch desktop programs. Best of all, the link will open in your current default web browser!