1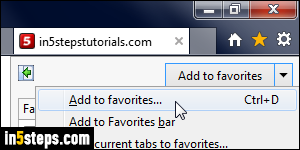 Every web browser supports bookmarking the websites you like: behind-the-scenes, this creates a shortcut to that web page's internet address ("URL"). Internet Explorer calls its bookmarks "Favorites", but it's the same concept. You can even create favorites folders and subfolders to organize the sites you saved. Internet Explorer uses the star icon as symbol for your Favorites.
2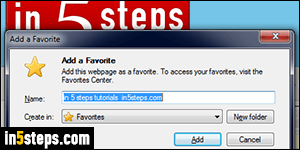 There are two ways of adding a web page to your Favorites: like on the first screenshot, you can click the star icon in Internet Explorer 11 / 10 / 9 to show the Favorites menu: then, click on the "Add to favorites" button. (No need to even click on the dropdown arrow as I did in that screenshot.) You can also hit the Ctrl+D keyboard shortcut: hold down the control key on your keyboard, and hit the letter "D". In both cases, you'll get the popup shown on the right.
3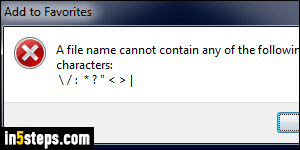 The web page's title is automatically fills in the Name text box: you can rename that to anything you want. Just pick something you'll remember points to that particular website. The only restriction, which comes from Windows 7 / 8, is that some symbols can't be used in favorite names. You'll otherwise get the "A file name cannot contain any of the following characters" error message. Favorites are actually just shortcuts in a "Favorites" folder under your profile.
4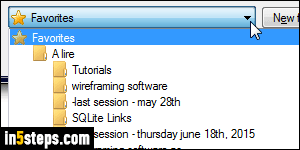 Now that you've named your favorite, choose where to save it: by default, "Favorites" is selected in the Create in dropdown menu. Click to store that new bookmark in another (sub-)folder, or click New Folder to create a new one. Organizing your favorites into folders, subfolders, and sub-subfolders is the only way to sanity. You use your web browser all the time, and if you only bookmark one website per day, you'll close the year with nearly 400 bookmarks!
5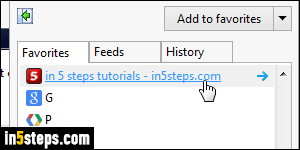 IE automatically sorts favorites and favorite folders in alphabetical order: take advantage of that feature when naming them! To access a bookmarked site, click on the star icon and click on the site you want to open, or click on a favorite folder to show its content. The classic menus are still available (though hidden), so you can hold down the Alt key and hit the letter "A" to show the Favorites menu - same content, but a bit easier to navigate :)