1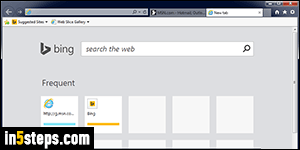 By default, Internet Explorer 11/10/9 opens the "New Tab Page" (about:tabs) when you click on the New Tab button or hit the corresponding Ctrl+T keyboard shortcut. An earlier tutorial showed you how to set your Internet Explorer homepage and new tab page to a blank page. This tutorial will show you how to choose a specific URL that should load whenever you open new tabs.
2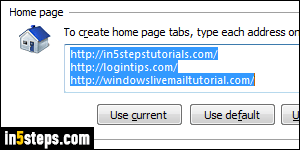 Once in Internet Explorer, click on the gear icon (top right corner) and select "Internet options". The first thing you'll see is a list of your current homepages. Whether you've set a single homepage or several, just make sure that the URL (internet address) that appears in the first line is the one you want to use for the new tab page. If it's there but not first, cut-and-paste it in first position. If it isn't there, type it at the beginning of the text box and hit Enter at the end.
3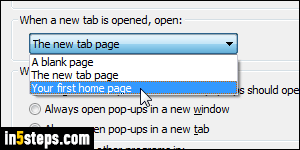 Now click on the Tabs button in that same Options dialog. The tab settings dialog includes a dropdown labeled "When a new tab is opened, open". Click on it and select "Your first home page" instead of the default "The new tab page". Click OK to save this option, and OK once more to return to IE.
4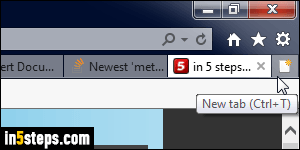 From this point on, when you open a new tab, the page whose address you listed first in the home page text box will automatically open. To return to the default new tab page, just type "about:tabs" in the address bar and hit Enter!
5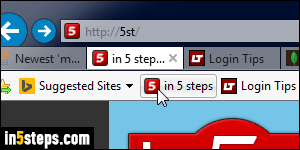 Bonus Tips - a few tricks to load a particular URL when opening a new tab:
When you use the mouse wheel to click on a link, it will open in a background tab. The same happens when you hold down the control key (Ctrl) when clicking on links. Holding down both Ctrl and Shift when clicking on a link makes it open in a new tab in the foreground! And all these tricks also apply to site buttons you have added to your Favorites bar (as on the screenshot). And you can prevent IE from coloring related browser tabs (aka "Tab Groups").