1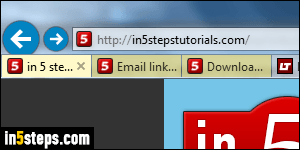 Starting with IE8, Internet Explorer has a feature called "Tab Groups" that highlights browser tabs' background in a similar color if other tabs were opened from the same one. It might be useful in some cases, but I find this distracting, so I'll show you how to turn it off. (Unless you happen to know that this is called "tab groups", you'll have a hard time figuring out how to disable it :)
2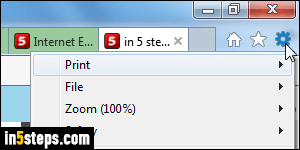 In IE9, IE10, and IE11, you can hit the Alt+X keyboard shortcut to show the new Tools menu; otherwise, click on the gear icon in the top right corner of the current window. Either way, select "Internet options" from the menu. If you have restored IE's classic menus, just click on the Tools menu at the top.
3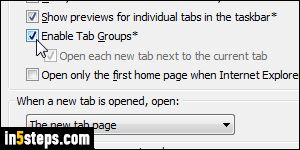 With the "General" tab selected in the Internet Options dialog, click on the Tabs button near the bottom. In the Tabbed Browsing Settings popup, uncheck the "Enable Tab Groups" checkbox. The asterisk next to it means that this particular setting will only take effect after you've restarted Internet Explorer.
4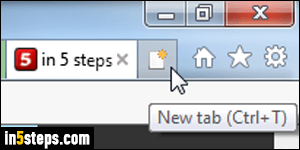 Notice that this setting is tied to another: by default, IE will automatically open a new tab next to the current one (unless you manually created it by hitting Ctrl+T or clicking on the new tab button, pictured on the right). Uncheck "Open each new tab next to the current tab" if you always want new tabs to show up at the "end" (right side) of the current window's row of tabs.
5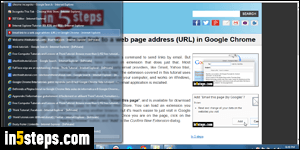 Bonus Tip: to prevent Windows 7 from showing a taskbar thumbnail for each browser tab you have opened in Internet Explorer (which can quickly become unmanageable!), just uncheck the "Show previews for individual tabs in the taskbar" checkbox. Click OK to apply your new settings: remember, this one and tab grouping / coloring won't be visible until you restart Internet Explorer!