1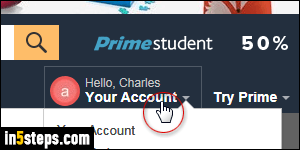 When you placed your first order on Amazon.com, you had to supply a shipping address. From that point on, this became your default address. But what if you want to ship a present to a friend, just this one time, without changing your default address? No problem: Amazon allows you to have multiple shipping addresses in addition to your own, default address - and it's easy to add!
2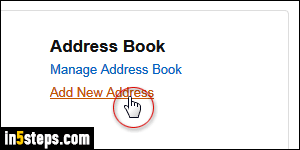 Once logged into your account, click on the Your Account button, as shown in the first screenshot. In the next screen, scroll down to the third section, "Settings", and click on the Add New Address link. Sign in again if needed.
3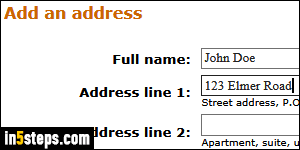 Type the full address in the web form. If you are adding a second address to send a present, enter your own phone number in the phone field. The delivery person may need to contact someone if there are difficulties, and you don't want to spoil the surprise for your friend or relative!
4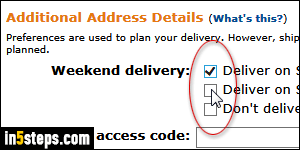 Specify your Weekend delivery preferences: deliver on Saturday, Sunday, both, or neither. If necessary, add a security access code for the driver. You don't need to associate a payment method with that address, since you can change your payment method to anything you like when you check out.
5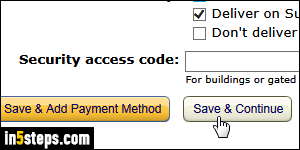 Click Save & Continue; if all went well, you'll get the "Your address has been successfully added" confirmation on the next page. Next time you're on the Amazon's check-out screen, click on the Change link next to your Shipping Address on the left to pick a different delivery. A popup lets you pick from any other shipping address you've saved, and even edit them from there!
*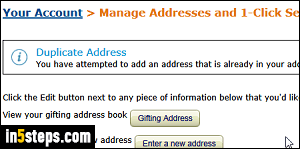 Bonus Tip - duplicate address error:
If you get the "Duplicate Address - You have attempted to add an address that is already in your address book", just scroll further down the page and find that address. Click on the Edit button next to it to make any changes you want!