1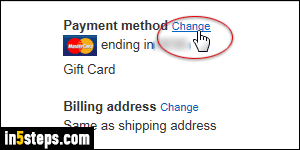 The first credit card you add on Amazon.com is automatically set as the default. Unless you added an Amazon gift card to your account, whose balance is automatically applied as payment, every order will be paid with the default credit card for that address, or the one you pick after clicking "change" for another payment method in the checkout page. If you've added a rewards credit card like Citi, you can use your ThankYou points to pay for orders.
2
Go to Amazon.com, and log into your account if needed. Then, mouse over the "Your Account" dropdown (near top right corner), and select "Your Account". Click on Manage Address Book under the third section. On Amazon, default payment options are tied to shipping / delivery addresses, not to your credit cards. And here's how you change your default shipping address.
3
I'm assuming that you have already changed your shipping address to the default you want. It is automatically selected for each order, but you can change that in the checkout screen. Now you just need to tie the credit card you want as default to your default shipping address. If the current Payment method showing on the page isn't the one you want, click on the Edit button.
4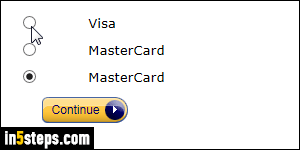 Select a credit card on the next screen and click Continue. To use a new credit card as default payment method, select the "Provide new payment method information" option instead, and follow the steps to add it to your account.
5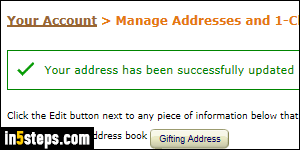 You will get a "Your address has been successfully updated" confirmation message at the end. Make sure that the correct credit card is attached to that address, and you are done! Remember that the default credit card is just a convenience. You just need to click on the change link in the checkout screen to use another type of payment, including your bank's checking account. That screen will also allow you to make the card you pick as the new default.