1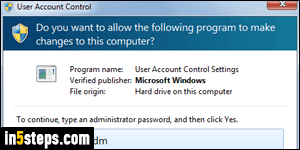 The default UAC settings are the safest: the User Account Control popup opens whenever you need to perform a task that requires elevated privileges, like installing a program. To make things easier, you can change the administrator's password to something a bit shorter, at least for a PC that stays most of the time at home - you don't want to pick a simple password for a laptop or tablet, which can easily be forgotten at a public place (library, coffee shop, etc.)
2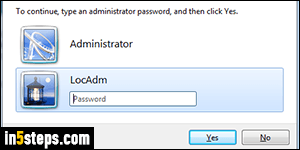 If you have multiple administrator accounts on your computer, Windows 7 will list them by creation date, which means that you may have to click every time on the one you want to use. If you bought a used PC, it's safer to not use any pre-existing account, and to create new user accounts instead: one for you, and a brand new admin account just for tasks requiring admin permissions. Never log in as an admin, since a virus automatically gets the same "powers" as the user currently logged into Windows - always logon as a standard user!
3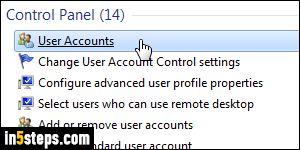 To choose which administrator shows up in the UAC prompt, convert all admin accounts into standard user accounts, except the one you want to use. They'll no longer appear in the UAC prompt! To do that or change any administrator's password, type "user" in the start menu. Then, click on the "User Accounts" link under Control Panel; in the screen that opens, click on "Manage another account" link at the bottom, and enter an admin password to continue.
4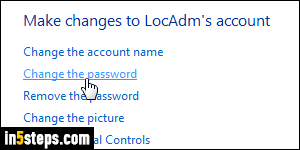 Click on the administrator account you want to edit. In the next page, click on the "Change the password" link. Enter that admin's current password (for security purposes), and type the new password twice (for confirmation the second time). The password is case-sensitive: that means that upper and lower case letters are considered different characters. Though the Password hint is optional, always provide it - especially for an administrator's account!
5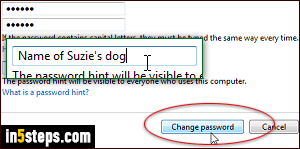 If you ever get stuck not remembering the admin password, you can buy special programs that will reset all Windows passwords to a blank password (no password protection). But these programs may not work depending on other security settings you may have put in place. Bottom line: always come up with and type a password hint that will help you remember it, without helping anyone else guess it! Click on the Change password button when you are done.