1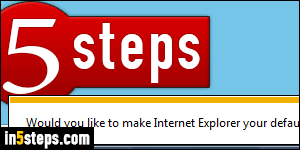 Since it's the only web browser that comes built into Windows, Internet Explorer is automatically the default - unless your PC manufacturer was paid to bundle a third-party browser and make it the default. After you install another browser that made itself the default, Internet Explorer will show the following message whenever you launch it: "Would you like to make Internet Explorer your default browser?" If you click Yes, you are done: IE is now restored as the default!
2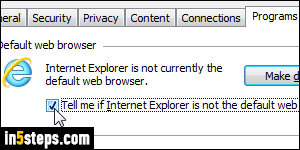 If you didn't get that message, displayed in an info bar at the bottom of the window, it means that Internet Explorer is already the default, or that the setting where it tells you if it isn't the current default (enabled by default), has been disabled. In IE 11/10/9, click on the gear icon (top right corner of the window) and choose "Internet options". Select the Programs tab, and check the "Tell me if Internet Explorer is not the default web browser" checkbox.
3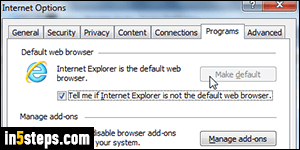 Notice that there is a "Make default" button right above that checkbox. If it says "Internet Explorer is not currently the default web browser", the button will be clickable. After you click on it, it becomes disabled (grayed out), and the notice is updated to read "Internet Explorer is the default web browser", as shown on the screenshot. You can now click OK to apply your new settings.
4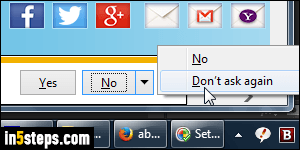 If IE isn't the default but you want to make it stop asking, you don't event need to go through Options. Just click on the dropdown arrow next to the word "No", and select "Don't ask again" from the popup menu. This does exactly the same thing as unchecking the "Tell me if..." checkbox we saw in Step 3.
5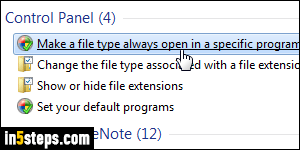 Bonus Tip: to keep a non-IE browser as default, but you do want Internet Explorer to open certain types of files, you go through the Control Panel. Open the start menu and type "file type" in the search field. Click on the link labeled "Make a file type always open in a specific program". Then, find and click on the file extension you want to modify, click Change program, and pick IE! You can also use the Control Panel to set the default web browser for Windows 7.