1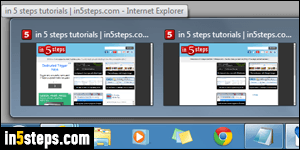 In Windows 7 and Windows 8, Internet Explorer 11/10/9 shows thumbnails for each open tab, which can be handy to quickly switch to other tabs (especially since IE removed the quick tabs functionality and Tabs menu after IE9). Those tab previews can get in the way, and do conflict with some third-party software.
2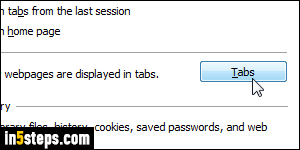 From any Internet Explorer window, click on the Tools menu (gear icon in the top right corner), or hit Alt+X, and choose "Internet options". With the General tab selected (it should be by default), click on the Tabs button. (Plenty of other cool options in that dialog to experiment with, by the way :)
3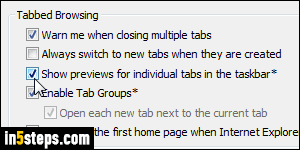 Under Tabbed Browsing at the top, uncheck the "Show previews for individual tabs in the taskbar" checkbox. The asterisk at the end means that this change will only takes effect after you've restarted Internet Explorer. Click OK to save this setting, and OK again to close the Internet Options dialog.
4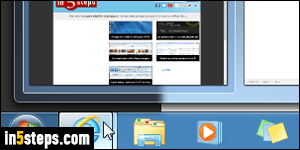 The default behavior is pictured in the first screenshot. After disabling the taskbar thumbnail previews, here's what happens when you mouse over the IE icon in the taskbar: a single preview thumbnail for each Internet Explorer window. So, unless you have MANY IE windows opened, no more huge menu flying above your other windows if you accidentally mouse over the IE button!
5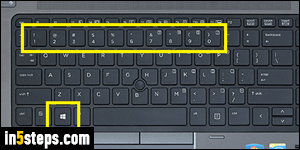 Bonus Tip:
This assumes that you have IE pinned to the taskbar. In Windows 7 and Windows 8, you can cycle through Internet Explorer windows by holding down the Windows logo key (WinKey) and keep hitting the number that corresponds to the IE button's position in the taskbar. Release when you found the window!