1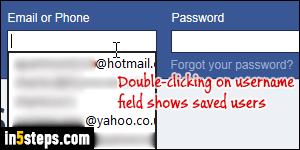 By default, Internet Explorer offers to save usernames and passwords when you login to various sites, to spare you from typing them when signing in. This is part of "AutoComplete": suggesting previously typed values for form fields, like your email address. Google Chrome calls that "Autofill". It's possible to stop saving passwords AND keep AutoComplete. This tutorial explains how to make IE stop storing credentials, and clear old ones from the password manager.
2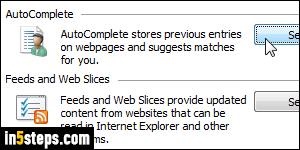 I'll focus on IE 11/10/9, but the process is the same in IE7/IE8; in IE6, your Tools menu is a menu, not an icon. So, click on the Tools menu (gear icon in the top right corner) and choose "Internet options". When the popup opens, pick the "Content" tab and click on the Settings button next to "AutoComplete stores previous entries on webpages and suggests matches for you".
3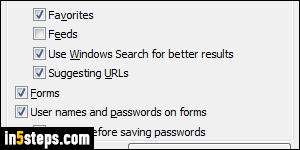 The top portion of the AutoComplete settings dialog deal with the address bar, where URLs (internet addresses) are shown and sometimes typed. The last three checkboxes are the ones you're interested in. The Forms checkbox, if checked (it is by default), is the one that makes Internet Explorer "remember" things you've previously entered in contact forms, search boxes, etc. It doesn't deal with passwords at all - up to you to keep it checked or not.
4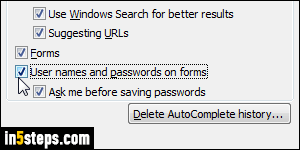 The "User names and passwords on forms" checkbox is the one that lets Internet Explorer optionally save your passwords. I say "optionally", because it depends on whether "Ask me before saving passwords" is checked or not. If checked, you can manually choose if that particular password should be saved or not. If it's unchecked, IE will automatically remember all passwords. Uncheck the first one to make Internet Explorer stop saving your passwords.
5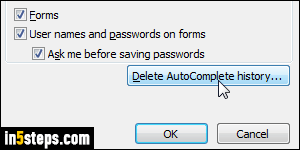 Bonus Tip: to erase username and passwords that Internet Explorer has already saved, click on the "Delete AutoComplete history" button. You will get the same popup we covered in the "Clear IE cache" tutorial: but in this case, only two checkboxes should be checked: the top checkbox, and the checkbox labeled "Passwords". Click on Delete to clear your stored passwords. Outside the Options dialog, you can hit Ctrl+Shift+Del to show that popup!