1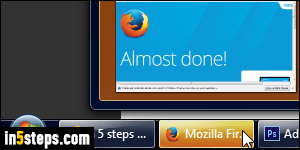 By default, Mozilla Firefox will minimize itself to the taskbar, like all other applications. However, since you typically have your web browser running all day long, it's nice to be able to keep it running, but have it out of the way, not taking up space in the taskbar, when you don't absolutely need it. You'll download an extension to do that, it's completely free. This will also work in Pale Moon, SeaMonkey, and Mozilla's desktop email program, Thunderbird.
2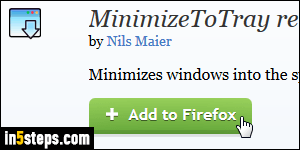 The extension to install is called "MinimizeToTray Revived": there was an original one called "MinimizeToTray", whose development was abandoned. This new extension has been updated to work with the latest version of Firefox and other Mozilla-based software. Go to that extension's official page.
3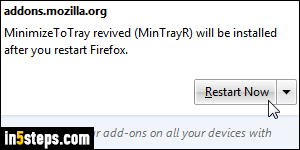 Click on the green "+ Add to Firefox" button: stay on that page while the download occurs, so the installer doesn't go away. When the security timer has finished, click on the Install button. When the prompt appears in the upper left corner of the page, click "Restart Now" (nearly every Firefox extensions requires a restart before it's fully installed and you actually can use it).
4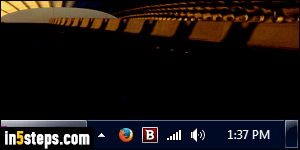 Once Firefox has restarted, click on its minimize button: the window will hide itself, the taskbar button will disappear, and a Firefox icon will now be visible in the system tray / notification area of the taskbar (the screenshot shows Windows 7, but this extension also works in XP / Vista and Windows 8 / 10).
5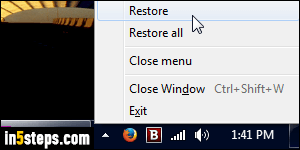 By default, Windows hides semi-inactive taskbar icons, which won't work in our case, since we want to know if Firefox is already running or not. Follow the steps in this tutorial to always show a taskbar icon. Having it always visible also means that you can quickly access extra functionality by right clicking on the Firefox icon when it's minimized (see screenshot). By the way, double-clicking on the icon restores the main Firefox window (and hides the icon!)
*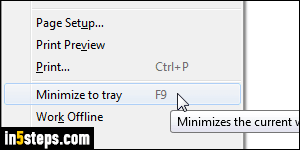 Bonus Tip:
Though you can't see it, because the latest versions of Firefox hide the classic menus, a Minimize to tray item was added to the File menu. More importantly, you now have a keyboard shortcut to minimize to the tray: the F9 key. If you use multiple browsers, know that you can also minimize Chrome to the tray. And there's even an app to minimize any Windows program to the tray!