1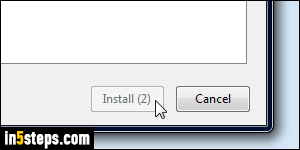 To prevent you from accidentally installing extensions you didn't want, Firefox displays a countdown timer on the Install button, during which that button is disabled (grayed out). This works the same way in Mozilla-based products like SeaMonkey or Pale Moon. If you feel confident that you'll be careful about the extensions you install, this tutorial shows you how to disable that delay.
2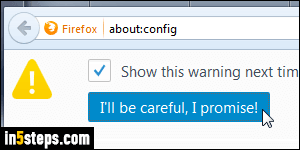 Open a new tab, type "about:config" in the address bar ("location bar"), and hit Enter. Click on the "I'll be careful, I promise!" button to continue. Behind-the-scenes, Firefox / SeaMonkey / Pale Moon keep track of your settings in that screen. The graphical options are just a more user-friendly, and more limited in customization, way to change how the web browser looks and behaves.
3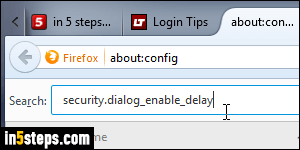 Type "security.dialog_enable_delay" in the search box at the top, without the double-quotes (see screenshot). That's the name of the setting that controls how long, in milliseconds, the extension's Install button remains disabled.
4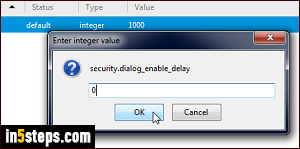 That row will now be the only thing you see: by default, in recent versions of Firefox, the value is 1000 (meaning one second). If you wanted to increase the timer to 5 seconds, you'd enter 5000. To completely disable the countdown timer, type 0 (zero), and click OK. This setting takes effect immediately. That row is now shown in bold letters, indicating a "non-default" configuration.
5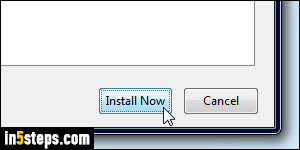 Now that you've disabled the timer, try installing an extension, like the awesome MinimizeToTray revived, which lets you minimize Firefox to the tray (notification area of the taskbar) in Windows 7 / 8 / 10 / Vista. As soon as the extension has downloaded, you'll see right away an enabled Install button!