1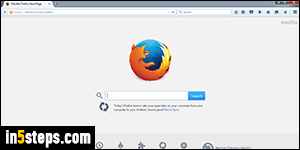 By default, Mozilla Firefox starts with a single blank tab when you launch the web browser (pictured on the right), which includes a search box tied to your default search engine, and a list of buttons at the bottom to access common functionality - like bookmarks, browsing history, or program settings.

Tip: you can reopen a closed tab by hitting Ctrl+Shift+T on Windows or Linux, and Cmd+Shift+T (Mac OS X). Keep hitting that hotkey to reopen them all!
2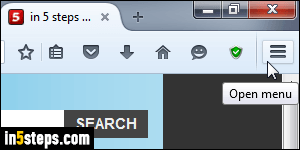 To make Firefox automatically reopen the tabs you had opened before the last time exited the browser, click on the menu button (top right corner), and select "Options". Make sure that the General settings are selected on the left.
3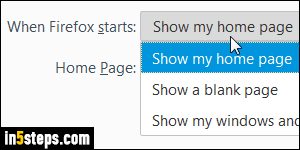 The second option, "When Firefox starts", has "Show my home page" selected by default. (Until you set it to another URL, your default homepage is the "about:home" tab, pictured in the first screenshot.) To force Firefox to restore tabs from your last browsing session, pick "Show my windows and tabs from last time". And since we're on the topic, "Show a blank page" would load the "about:blank" tab the next time you open Firefox.
4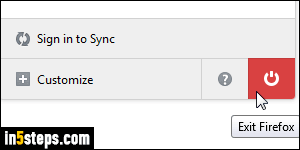 There's no save button - just close the Options tab and Firefox will remember your choice. Notice how the setting mentioned "windows": that's because Firefox will remember all the last windows you had opened, and all their tabs, when you choose "Exit Firefox" from the menu. If you use the "x" close button to close a window, Firefox may not "remember" all the windows you closed, depending on when you closed them before closing the last one.
5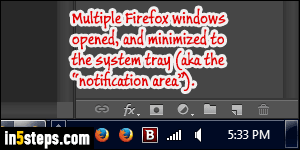 If Firefox restores tabs from a window you meant to have closed and not reopened, just close it: as long as you close that window well before quitting Firefox or closing the last window opened, it won't restore it, or its tabs. If you have installed the extension to minimize Firefox to the system tray / notification area, you may have windows opened without realizing it: just look near the system clock to make sure. (And always show the Firefox icon!)
*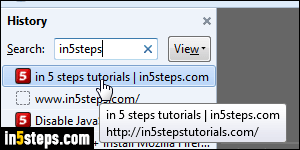 Bonus Tip - What if Firefox crashes?
Firefox is well engineered: it keeps track of current tabs as you open them, so that even in the event of a crash, all your tabs and windows will be restored (if that's the setting you picked). Another trick to keep in mind: if, for any reason, a tab isn't restored, hit Ctrl+H (Windows/Linux) or Cmd+H (Mac) to view your recent browsing history: click on any link to re-open that particular tab!