1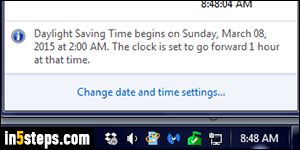 By default, Windows 7/8 will automatically update your system clock to reflect the biannual change in time due to Daylight Saving Time (depending of course on your location - some areas do not observe DST). But you can prevent Windows from automatically changing the time to match Daylight Saving Time. The screenshot on the right shows the warning Windows 7 displays a few days before the new Daylight Saving Time is applied. It also confirms it afterwards.
2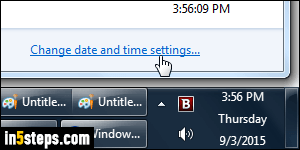 To disable the automatic update to Daylight Saving Time setting, click on the system clock: when the calendar popup opens, click on the "Change date and time settings" link at the bottom. To turn off notifications, uncheck the "Notify me when the clock changes" checkbox. (Notice, from the screenshot, that resizing your taskbar lets you show the day and date next to the clock!)
3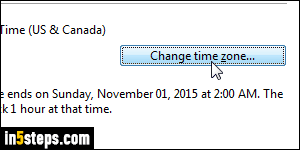 Counter-intuitively, click on the "Change time zone" button: that's probably because changing the time requires the administrator's password, depending on your user account control settings. Changing time zone doesn't need special permissions, so you can do it even logged in as a standard user account. Under that button, Windows gives you the exact date of the next DST change.
4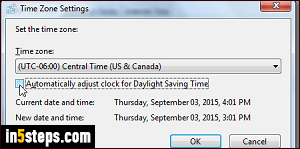 In the Time zone Settings popup, uncheck the "Automatically adjust clock for Daylight Saving Time" checkbox. If that changes your current time, Windows will let you know under the checkbox. Click OK to apply the change
5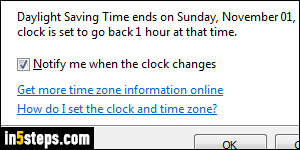 Click OK to close the Date and Time dialog; from now on, Windows will no longer change the time automatically, though you might still be notified when the time change should happen (if you left the checkbox in step 2 checked). Remember to manually change the system clock's time when applicable.