1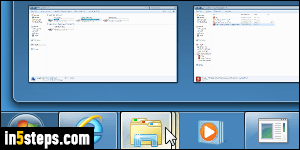 New to Windows 7, the space-saving taskbar combines related icons in a stack, like the multiple Windows Explorer windows visible on the screenshot. And you can add icons (shortcuts) to the taskbar by "pinning programs" to it. Mousing over the group icon reveals the "taskbar thumbnails". This tutorial shows you how to make these icons behave more like the Windows XP / Vista taskbar.
2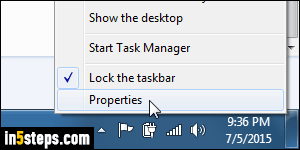 Right-click on an empty area of the taskbar and choose "Properties" (not on an icon, or you'll get that icon's context menu!) If your taskbar is full, right-click on the start button (Windows logo on the left), and choose "Properties" - and then select the "Taskbar" tab. Either way, you'll end up looking at the same thing.
3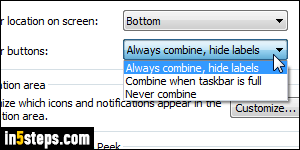 By default, the "Taskbar buttons" dropdown has "Always combine, hide labels" selected. That means that Windows 7 will never use separate buttons for the same application. If you choose "Combine when taskbar is full", Windows will only group related icons if you're running out of space. (Tip: making the taskbar larger by dragging its border without ungroups these icons). Pick "Never combine" to prevent Windows from ever grouping icons.
4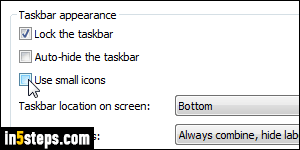 If you liked the old-style taskbar, here are a few settings for you: check the "Use small icons" checkbox to show 16-by-16 pixels icons, like previous versions of Windows (the ones in Windows 7 are twice as big by default). To be able to resize your taskbar (which ungroups icons or let you see more of them), make sure that the "Lock the taskbar" checkbox is unchecked.
5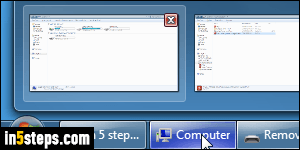 Click OK to apply the change. You saw the default Windows 7 taskbar in the first screenshot: after disabling icon-grouping and choosing the "small icon" setting, we made our Windows 7 taskbar look just like Windows XP and Vista! Notice the differences between the first screenshot and the one on the right.