1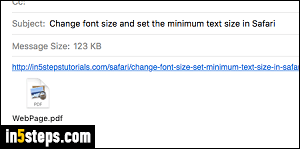 Safari on Mac OS X offers the best of both worlds: you either send a link to the current tab's URL (internet address), email the content of that web page in your default email program, or even convert and attach it as a PDF through Mac Mail. In many cases, web browsers don't offer that functionality out-of-the-box, or if they do, you can only send the page as an attachment, which is bad for several reasons (counter-intuitive, large message as a result, etc.)
2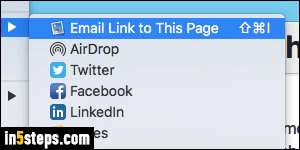 Once in Safari, with a website loaded (this tutorial will do fine!), click on the File menu, and select the "Share" submenu. Notice that Safari includes many more sharing options than just email: you can tweet a link to that page (meaning post it through your Twitter account), share that link on Facebook or LinkedIn, or even send it to one of the Mac or iCloud apps, like Notes, Messages, etc.
3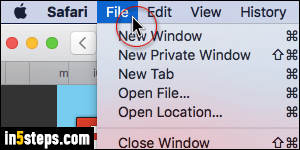 Something you may not know: to keep their apps' menus uncluttered, Apple hides some options by default, until and unless you hold down the Shift key on your keyboard. This is the case for the share-by-email options in Safari.
4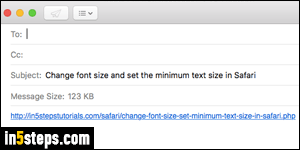 With the Shift key held down, the menu item reads "Email Link to This Page", with a keyboard shortcut of Command+Shift+i. Once you click on that command, Mac OS X will open a new message in your default email client, with the title of the web page as subject line, and a link to it in the body!
5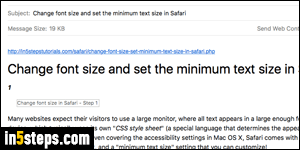 Without the Shift key, that menu item reads "Email This Page" - with a keyboard shortcut of Command+i. The screenshot shows that command in action: web page title as subject line, and meaningful content as message body. This functionality is like the "reading mode" view, where Safari excludes the content that doesn't matter, like header, navigation links, and footer!
*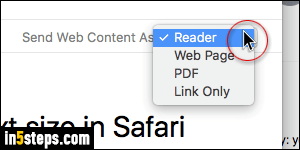 Bonus Tip - Convert and email a PDF version of the web page!
Safari can convert and email the current web page as a PDF document through Mac Mail. Hit Command+i or Command+Shift+i: in the new message window, click "Send Web Content As" in the subject line (on the right). Select PDF from the dropdown to attach the web page as PDF, with a link to the original page. A great option if the web page is updated, or removed from the website!