1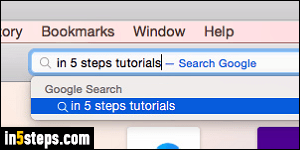 Out-of-the-box, Safari uses Google as "default search engine": that's the search engine automatically used when you launch web searches from Safari's address bar (what Apple calls the "Smart Search Field"). Safari supports four search engines: Google Search, Yahoo, Bing, and DuckDuckGo. A later tutorial will show you how to add custom search engines to Safari (creating search engines from websites' search forms, like Amazon for example).
2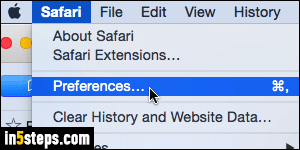 Click on the Safari menu in the top left corner of the screen, and select Preferences; you can quickly access them with the Cmd+, keyboard shortcut.
3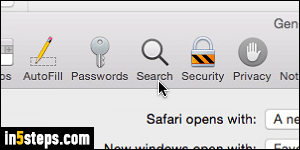 Select the "Search" options at the top.
4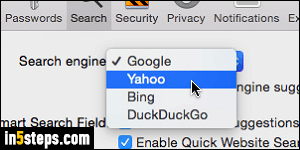 Under the Search Engine dropdown, select one of the built-in search engines you'd like to use instead. The "Including search engine suggestions" checkbox is checked by default: with that option enabled, Safari will suggest queries based on what you've typed so far. Auto-completion is supported by these four search engines, but might not for other, custom search engines you add later on. You can close the Preferences dialog once you are done.
5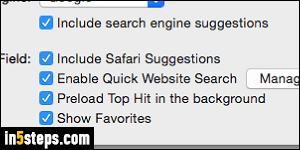 Bonus Tips - Safari includes a few other settings for the Smart Search Field:
- "Include Safari Suggestions" will also search your browsing history.
- "Show Favorites" will show websites you bookmarked as suggestions.
- "Preload Top Hit in the background" starts downloading the web page Safari thinks might be your target, which makes it load quite a bit faster!
- FYI: Bing powers Yahoo Search, so you'll get the same results with either.