1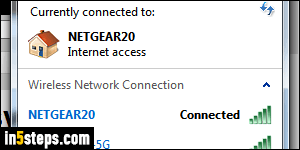 When you first log into your Netgear router, you'll have to use the default user name and password of "admin" and "password". Since your router can be (optionally) accessed from outside of your network for remote administration, it's dangerous to leave the defaults, and you should change the default password as soon as possible. (You should do it at the end of this tutorial!)
Note: if wireless isn't setup yet, see the bonus tip at the bottom of this page.
2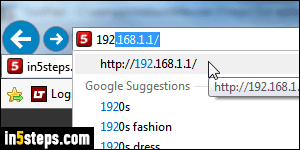 When you are connected to the internet using your router, traffic in and out of your network passes through your router. That allows Netgear to set its own "IP address" to a fixed number. (Behind-the-scenes, web surfing is just loading content from various websites with the unique IP address of their host server.) So, open your favorite web browser, type 192.168.1.1 in the address bar at the top of the window, and hit Enter. (Don't type the IP address in a search box.)
3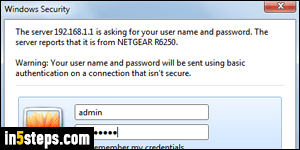 This process is the same, regardless of the web browser you are using or your operating system (Windows / Mac OS X / Linux). The security prompt that pops up may look different from the screenshot, but will contain the same fields, and offer the same functionality. Type "admin" as username, and "password" as password. Since this connection happens within your internal network, the fact that it isn't secure (see message on screenshot) doesn't matter much.
4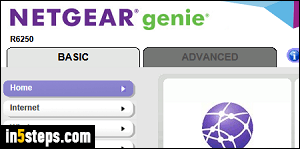 You are now logged into your Netgear router! Especially on the Basic tab, selected by default, things are pretty intuitive. Since the router controls your access to the internet, don't change settings unless you know exactly what they are doing. Trying to find a fix without an internet connection to make online searches is a very taxing experience. Tip: know that you can go online with your iPhone personal hotspot - that's what I had to rely on earlier today!
5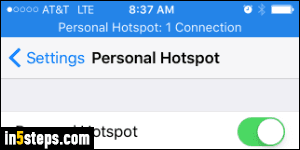 Note: Netgear encourages us to use the Netgear Genie app for PC / Mac / iOS / Android to manage your router. It makes things easier, but it is a good idea to know how to manage your router directly from a web browser. Even without a working internet connection, you can connect to your router through your local network. If Genie isn't installed on that machine, you'd be at a loss. (Remember, without an internet connection, you could not download it!)
*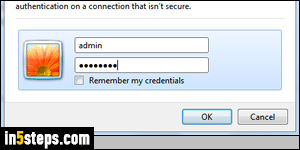 Bonus Tip: if you haven't setup a wireless network through your Netgear router yet, you can still connect to it. Just get an Ethernet cable, and connect one end of it to your desktop or a laptop that includes an Ethernet port, and connect the other end into the back of your router. Then, start over with step 2 above.