1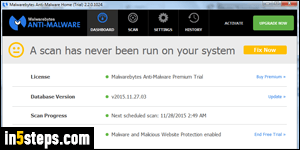 Unlike most software, but like the typical security software package, your purchase of Malwarebytes anti-malware or Malwarebytes anti-exploit is actually a subscription - what's called "SaaS" (software as a service). This means that once your subscription expires, the software reverts to its basic, free functionality. In the case of Anti-Malware, it means that you lose the real time protection, which is really the selling point of that piece of software.
2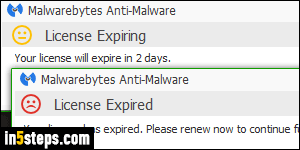 The problem is that you won't be notified when Malwarebytes is about to expire, and it will be automatically renewed for the computers you originally registered, maybe not what you want! So I'll show you how to cancel your subscription: this will not affect your software, and you'll still get protection until the end. But it gives you control over when, and if, to renew that subscription. And don't worry: Malwarebytes will tell you when your software is about to expire!
3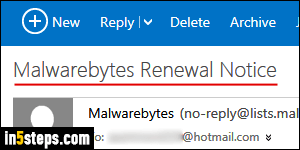 Since you purchase Malwarebytes without setting up an account with the company, the only thing tying you to that transaction is the order number. When you bought one of those products, you should have received a confirmation email, whose subject line is "Malwarebytes Renewal Notice". Find it in the inbox of the email account you typically use for online purchases. If you can't find it, contact Cleverbridge, which handles online payments for Malwarebytes.
4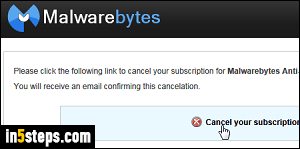 Otherwise, open that email: at the bottom of the message, you'll see a "If you would like to manage your subscription, click here" sentence. Click on that last link to open a new browser tab on Malwarebytes' website. Then, click on the Cancel your subscription link pictured. You'll get a confirmation message like this: "Your subscription of Malwarebytes Anti-Malware Premium has been canceled. Please note that this cancelation does not result in a refund of your order". In other words, you keep your full protection until the renewal date.
5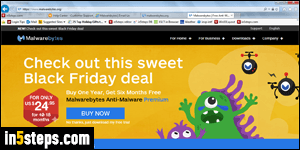 Repeat these steps until you've cancelled all your ongoing subscriptions. If one of them has automatically renewed just a few days ago, you may be able to get a refund from Malwarebytes - contact them, explaining your issue. Since the automatic renewal probably catches a lot of people by surprise, I'm sure that this is a common request, and I'm guessing that the company can be lenient!