1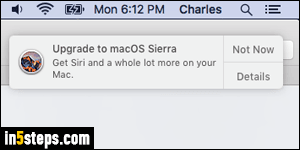 True to form, Apple's latest operating system is a free download for all compatible computers. It brings Siri to your iMac or MacBook / Air / Pro, Apple Pay (iPhone with Touch ID still required!), Universal Clipboard (to share cut or copied content from one Mac or iOS device to another - part of Continuity), Picture in Picture (floating video player from a web page), and a few more improvements. This upgrade is more an evolution than a radical change.
2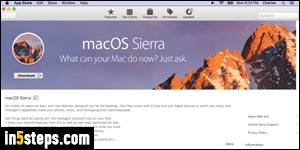 If you're not sure, here's how you find out what version of Mac OS X you are running. If your Mac automatically detected the available upgrade, you'll see a notification like the previous screenshot. If not, just launch the App Store app: macOS Sierra (also known as Mac OS X 10.12) is likely featured front and center on the homepage, and will otherwise be listed under Updates.
3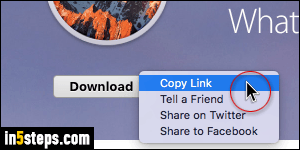 Once on the macOS page, click on the Download button: like other apps in the store, you can use the down arrow to share the link or notify a friend. If you are the designated tech person in your family, you can use the "Tell a Friend" link to send them a direct link to the download screen in the App Store!
4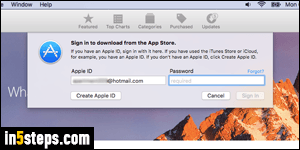 If prompted to login, do so: the download will start right away. A progress bar appears under the Download button, with an estimate of the download duration, based on your internet speed. You can still use your Mac in the meantime.
5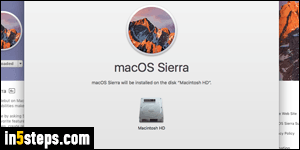 An "Install macOS Sierra" popup will automatically launch. Click Continue, accept the terms, and select the hard drive where you want Sierra installed - generally, you'll pick "Macintosh HD". Click Install: the rest of the process depends on your drive and processor speed. At the end, close all open apps and click Restart. All told, it took my Mac about an hour to upgrade.