1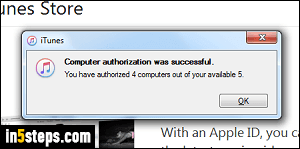 Aside from iOS devices (iPhone, iPad, iPod touch), Apple limits you to 5 authorized desktop computers / laptops (Windows or Mac) on which you can consume media (or Audible audiobooks) purchased from the iTunes Store. You can easily authorize new computers for iTunes; but once you hit that limit, you'll have to manually de-authorize some. I'll also show you how to handle the case where you no longer have access to a machine you want to deauthorize.
2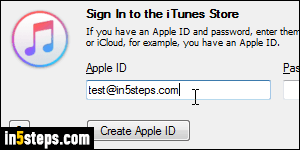 Before going forward, know that Apple -in an attempt to reduce fraud- also limits the number of times you can authorize and deauthorize computers in a single year. So do it wisely! If you have access to the Mac or PC you want to deauthorize, launch iTunes from it. Normally, you must have signed into any authorized computers with your Apple ID. If needed, login to iTunes again.
3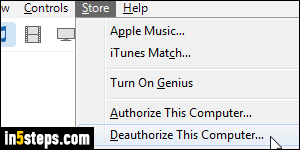 On Mac OS X and Windows 7 / 8 / 10: from iTunes' main window, click on the Store menu, and select "Deauthorize This Computer". (If you haven't restored the classic menus in iTunes for PC, click on the menu icon -top left corner- and choose the Store submenu.) A login popup will open: make sure that the email address is the correct one, and type your case-sensitive iTunes password.
4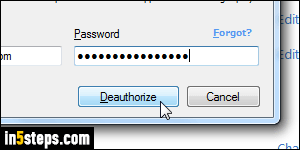 Click on the Deauthorize button: within seconds, that computer will have been de-authorized. None of your content (music, audiobooks, TV shows, movies, etc.) won't be deleted from that PC/Mac, but you won't be able to play it from iTunes any longer. This limitation only applies to DRM-protected content from Apple: you can still use iTunes as a media player for "unprotected" MP3s and movies. You can now authorize another computer instead of this one!
5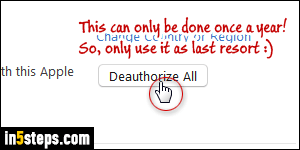 If you sold or gave away the computer you wanted to deauthorize, or its hard drive had to be reformatted, was wiped by a virus - etc., a number of possibilities here, you can deauthorize remotely all your computers. Once in iTunes, click on the silhouette button on the left of the search field (near the top right corner), and choose "Account Info". Login to your account: under the Apple ID Summary, click on the Deauthorize All button on the right!
*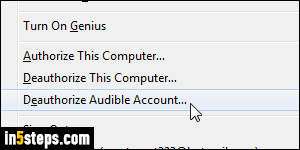 Bonus Tip - deauthorizing your Audible.com account only.
When you purchase audiobooks from the iTunes Store, they actually come from the Amazon-owned Audible.com library. If you only want to remove audiobook licensing from that particular PC or Mac, click on the Store menu in iTunes, and select "Deauthorize Audible Account". This will not affect other content from the iTunes Store, or audiobooks sold by Apple, as "music albums".