1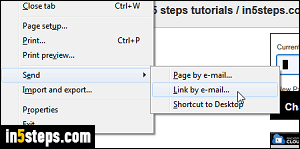 By default, IE 11 / 10 / 9 only offers one way to email a web page link, hidden behind the "classic menus". (Hit Alt+F to show the File menu and go to Send > Link by e-mail.) The downside -aside from being tedious- is that the message generated, if you use Outlook, is plain-text only. If the link you send is above a certain number of characters, it will be broken (unclickable!) Worse yet, that command is sometimes randomly disabled (grayed out), making it unusable.
2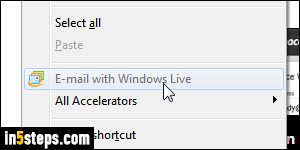 Once you install Windows Live Mail (and/or the rest of the Windows Live Essentials suite) on your PC, Microsoft will automatically add "E-mail with Windows Live" to the context menu that appears when you right-click on a web page. Unfortunately, unless that's what you want, clicking on it will send a link to the current web page using Hotmail / Outlook.com, not your desktop email program (Microsoft Outlook, Windows Live Mail, Thunderbird, etc.)
3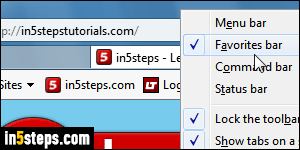 If you read the "Internet Explorer favorites bar" tutorial, you'll remember that you can add a shortcut to any web page to that toolbar. You may also recall that you can change anything you want about that shortcut. If your favorites bar is hidden, right-click on the title bar (at the top of your Internet Explorer window), and check "Favorites bar" from the menu. It is visible in the screenshot.
4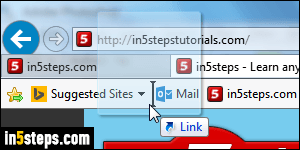 Now drag the icon to this page -for example- and drop it onto the favorites bar. It doesn't matter that this link points to this page, because we'll change the target of that link - it's just the easiest way to add a shortcut, that's all :) Right-click on the shortcut, choose "Properties", and copy-paste this text as URL:

5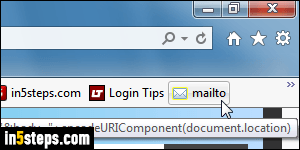 Click OK to save. Now right-click again on the shortcut you just created, choose Edit from the menu, and type a new name. In my case, I've called the shortcut "mailto", and used the icon from Rackspace Mail to make it easily recognizable in the toolbar - but you can call it anything you want, and use any icon you want! Clicking on that bookmark will generate a new email, with the web page's title as subject line, and its address in the message body!