1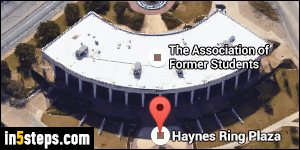 My main issue with the early versions of the new Google Maps is that it didn't allow you to see a city's aerial view in a 45-degree angle view, pictured right. The default view, like the Classic Google Maps, shows everything from the top, at 90 degrees (straight angle). But 2015's Google Maps goes even further: you can view everything in satellite pictures at 45 degrees, and you can even go lower, and view the scenery as if you were floating right above low rooftops!
2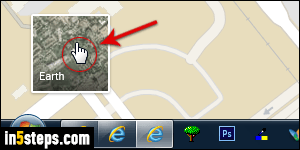 First, note that the angled view is only available in hybrid / satellite view, not in the view called "Map", which only shows drawings (renderings) of buildings, roads, and terrains. To switch to satellite aerial imagery, click on the Earth button in the lower left corner of Google Maps (see screenshot, which by the way shows the drawn-out "Map" view recognizable from its "cartoonish" look).
3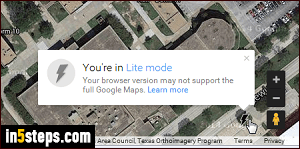 As soon as the satellite picture view has finished loading, look near the bottom right corner of the map: you'll see controls that let you customize the view, the orientation, and the angle. Google Maps supports just about every modern web browser. If you are using an old or incompatible browser, the controls on the right side will look like the screenshot (taken in the classic Opera browser). This is the "You're in Lite mode" map, pared down to its basic functionality.
4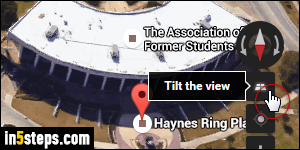 Contrast that with the full Google Maps, pictured right: the default view is vertical, but click once on the "Tilt View" button to show everything at a 45-degree angle. (Note: the screenshot shows the map after I've already clicked on the tilt-view button.) You can now drag the map around, and it stays angled. To rotate the view, click on the circular arrows right and left of the north/south arrow icon - right above my cursor in the screenshot.
5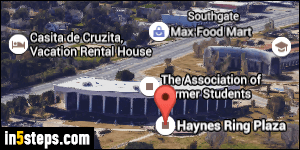 Click once more on that same Tilt the View button to get unbelievable aerial views, as if you were flying in a helicopter. That's what I did to get the screenshot on the right (it's the same building as the previous shot). To go back to the default aerial view (90 degrees), click a third time on that button. If the Tilt View button is hidden in a modern browser, it just means that Google Maps hasn't (yet) taken close-up satellite imagery for the area you're looking at.