1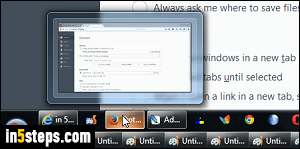 By default, Firefox only shows a single thumbnail preview in the taskbar on Windows 7 / 8 / 10, regardless of the number of browser tabs currently opened. But you can make it show an individual preview thumbnail for each tab: that allows you to quickly select the tab you want to access, straight from the taskbar! (Even if Firefox is currently minimized and hidden, in other words.)
2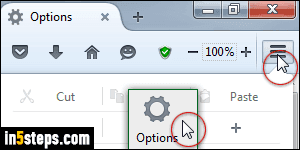 From Firefox's main window, click on the menu button (top right corner), and select "Options". On Mac OS X, that same button is labeled "Preferences".
3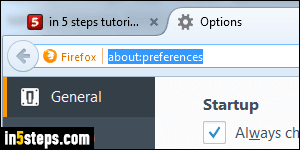 When Firefox opens the "about:preferences" tab, double-check that the General settings are selected on the left. (Based on the size of the window, only the wall switch icon might be visible, without the word General.)
4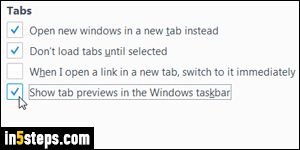 Check the "Show tab previews in the Windows taskbar" checkbox. The option takes effect immediately: if you mouse over the Firefox button in the taskbar, it will now show a tab preview thumbnail for each opened tab. The option is automatically saved as you change it, so you can close that tab.
5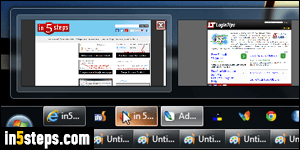 A few taskbar thumbnail tips that you might already know from, say, Internet Explorer: if you hover above a thumbnail, it will show that tab's title in a tooltip and temporarily bring that tab to the front (even if Firefox isn't the foreground application). Clicking on any thumbnail will activate Firefox -if it wasn't already the foreground program- and open the tab whose preview you clicked.