1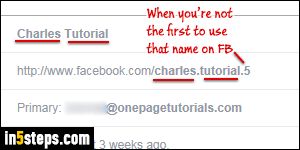 Your name on Facebook is the one you entered when you first signed up. And your "username" (in your Facebook profile's URL) is based on that initial first name and last name. But you can change both, add a nickname, and add a married / maiden name as well. Note that Facebook doesn't let you change your name more often than every 60 days, so be very careful with typos!
2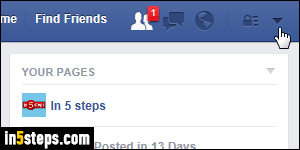 First, log into the personal Facebook account whose name you want to change: if you are trying to rename a Facebook page, see instead the "Change the name of a Facebook page" tutorial. Otherwise, click on the dropdown arrow in the top right corner of the page, and choose "Settings" from the menu.
3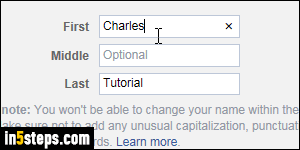 On the next screen, click on the Edit link next to your Name (first row). Change your first name and/or last name, and optionally type a middle name. In addition to the 60 days name-change restriction, Facebook also tries to enforce a "real name policy". Practically, that means that it may prevent you from changing your name if it thinks that you are using common nouns or unlikely names.
4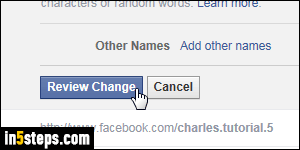 When you are done, click on the Review Changes button, and save your new name once you've double-triple-checked it for typos! If you want to add or change another name in your account (nickname, maiden name, married name, alternate spelling, birth name, former name, etc.) click once more on the Edit link next to Name, but this time click on the "Add other names" link.
5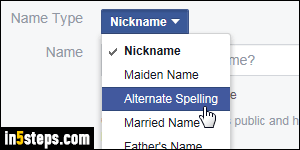 In the next page, click on the "Add a nickname, a birth name..." link on the right. Then, select the name you want to add from the Name Type dropdown. Type it in the text box, optionally choose to "Show [it] at top of profile", and click on the Save Changes button. And keep going for any other names you want to add! Your initial username (in your Facebook profile URL) remains the same, but I'll show you in a later tutorial how to change that as well.