1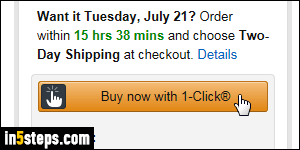 Amazon's one-click ordering feature is practical, especially if you subscribe to Amazon Prime (no worries about the size of your order, since you're getting free shipping anyway). The downside is that it's easy to accidentally click on the "Buy now with 1-Click" button pictured right, especially for Kindle orders (where that button appears up at the very top of the page!) This tutorial shows you how to disable 1-click purchases for both Amazon.com and mobile app.
2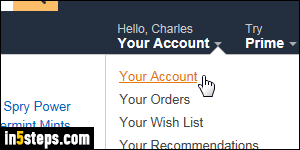 Go to Amazon.com: mouse over or tap on the "Your account" dropdown button at the top, and click "Your Account". Under Settings (third group of links), click on the "1-Click Settings" link. Enter your Amazon password if asked to do so - a security measure to prevent others from making changes to your account, in case you left your computer unattended while logged in.
3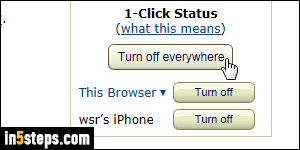 On the next page, your one-click settings are shown in the top right corner. Addresses are on the left: that's where you'd change the billing and shipping address associated with 1-click orders. There is a Turn on / Turn off button for "this browser" - that means that you can have one-click enabled in some browsers, but disabled in others. I'll click "Turn off" next to my iPhone, so that (accidental) one-click orders are no longer possible from the mobile app.
4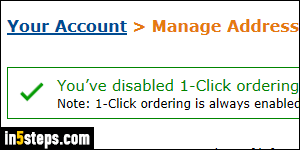 Amazon shows a "You've disabled 1-Click ordering for your mobile device" confirmation once you successfully disabled one-click for a device / browser. The second line, partially cropped in the screenshot, mentions that one-click orders can't be disabled for digital videos, Kindle books, MP3s, and other digital purchases. So, let's be super careful when looking at eBook pages!
5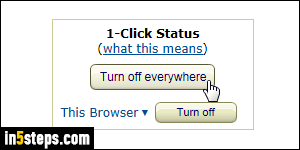 To completely disable one-click for your entire Amazon account, click on the "Turn off everywhere" button. Once you do, you'll get the "You've disabled 1-Click ordering everywhere" confirmation message. But remember that you can only use your Amazon cart for physical orders. Anything digital will bypass the cart and be purchased with a single click - no way around that, currently.