1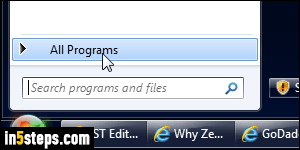 Every program you install generally has a shortcut / link in the start menu. These shortcuts are stored under the My Programs group at the bottom of the start menu (see screenshot). Often, the program shortcut will be listed in a subfolder in the start menu, and that folder is named after the app or the software maker. If a shortcut isn't in the start menu, either you uninstalled the program, or its installer (assuming there was one) didn't create shortcuts.
2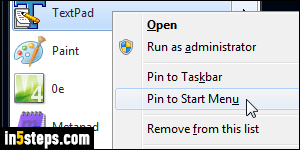 To add a program at the top of the start menu, above your frequently used programs, find its shortcut under the All Programs submenu. Then, right-click on it and choose "Pin to Start Menu" from the context menu. This adds that shortcut at the end of your favorite (pinned) programs list. Drag-and-drop its icon to any new position you want. To remove a program from that list, right-click and choose "Unpin from Start Menu". This will only hide its shortcut.
3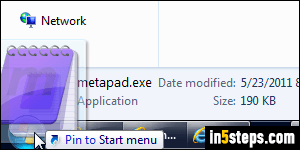 If you can't find the program in the start menu, and typing its name in the search field doesn't show it, let's add it manually. Programs not installed through an "installer" don't have a shortcut in the start menu. Just find the program's executable (what you double-click on to launch that app), and drag it above the start button. Drop it when it says "Pin to Start menu".
4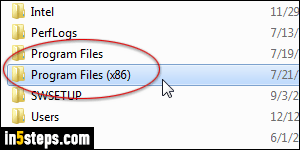 Finding programs on your PC: unless you unzipped the app yourself, programs are generally stored in specific folders. Right-click on the start button and choose "Open Windows Explorer". Select "Computer" on the left, and double-click on the Windows 7 system drive ("C:\", generally). On a 32-bit version of Windows, your programs are in the "Program Files" folder. On 64-bit, some applications are also installed under "Program Files (x86)". (Find out if you have a 32-bit or 64-bit version of Microsoft Windows.)
5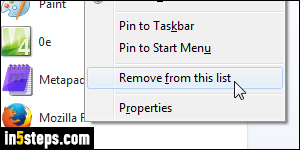 To remove a program from your recent programs list, right-click on it and pick "Remove from this list" (that only hides it - the shortcut remains in your start menu). To delete a program elsewhere in the start menu, right-click on its shortcut icon and pick "Delete". That only removes the shortcut: the app is still on your PC. To get rid of the app itself, just go uninstall that program!