1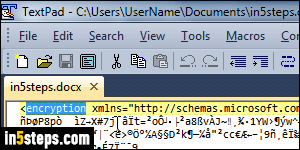 By default, Word files are editable documents, which anyone can open, view, and edit as long as they have a compatible version of the text processor installed, or a viewer to open it. But, if using Word's own file format (doc or docx files), you can add a password to prevent people from even viewing that document's content, let alone edit it - unless they provide the correct password. This will not work for files saved as RTF (rich text format) or plain text (txt).
2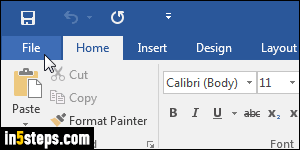 This tutorial shows Word 2016 screenshots, but all steps are the same in Word 2013, Word 2010, and even Word 2007. From Word's main window, click on the File button in the top left corner (or the Office orb button in Word 2007).
3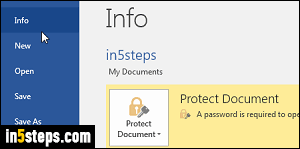 When the Backstage view opens, make sure that the Info section is selected on the left: this "sub-tab" lets you manage the current document's metadata (information that pertains to the file, but isn't part of its textual content).
4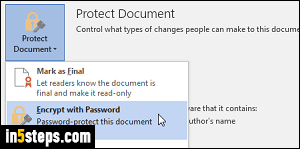 On the right, click on the Protect Document button, and select "Encrypt with Password" from the dropdown menu. Enter your password in the text box: it is case-sensitive (meaning that uppercase and lowercase letters are considered to be different characters!) Click OK or hit Enter, and confirm your password. Once the document is password-protected, that section will become yellow.
5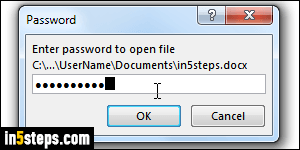 Close and re-open that same document, just to test things out: you should get a text box popup like the one on the screenshot, preventing you from opening the document unless you supply the right password. This is a nice feature for common cases, but programs exist online to crack Word passwords, so don't rely on that feature alone to protect really sensitive data. (This first line of defense can be supplemented with, for example, hard drive encryption.)