1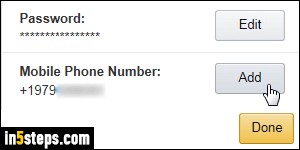 If you are using a landline, adding your phone number to Amazon doesn't help much. If you have a cell phone that can receive SMS text messages, however, adding it means that Amazon can send you updates about your orders, and more. You can have multiple phone numbers attached to the same account, and I'll also show you how to delete a number, or how to change it.
2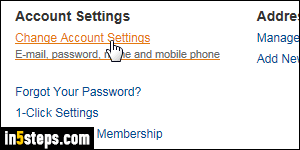 Once logged into your Amazon.com account, mouse over the Your Account dropdown button near the top right corner of the page, and select "Your Account". Under Settings (third group), click on Change Account Settings.
3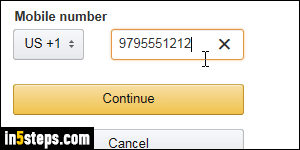 On the next screen, click on the Add button next to "Mobile Phone Number". If you've already added a phone number, it will be listed on the left, and the button will say "Edit". Click it to add another phone number. Make sure that the country and country code is correct in the dropdown, and type your full cell phone number, including area code, in the text box on the right. Double-check it for typos, because Amazon won't confirm it. Click Continue.
4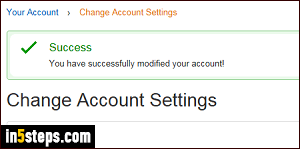 Your phone number was added if you get the "You have successfully modified your account!" confirmation message. It's surprising that Amazon.com doesn't send an SMS message as confirmation, or that it doesn't require one to validate your phone number, but you can now see your phone number listed at the bottom of the Change Account Settings page - you can verify it to make sure, or check your inbox: a confirmation email will display the number added.
5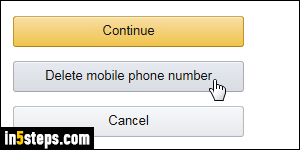 To change the phone number associated with your Amazon account, follow the same steps: when you are on the screen that lets you add your cell phone, click on the Delete mobile phone number button. It will be removed without visual confirmation of any kind, but if you click once more on the Change Account Settings link, you will see that your phone number is no longer there!